NETGEAR
NETGEAR® has been a worldwide provider of technologically advanced, branded networking products since 1996. Their mission is to be the preferred customer-driven provider of innovative networking solutions for small businesses and homes. For businesses, NETGEAR provides networking and storage solutions without the cost and complexity of big IT. The company also supplies top service providers with retail-proven, mobile broadband solutions for their customers on the go. NETGEAR products are built on a variety of proven technologies such as wireless, Ethernet and Powerline, with a focus on reliability and ease-of-use.



10-Gigabit Switches
NETGEAR is the leader in the 10-Gigabit Enterprise switch market with the most versatile and comprehensive offerings in the market at the most affordable price points. Users can enjoy the highest security and scalability, massive performance and absolutely no downtime with their high-end 10-Gigabit switches. NETGEAR has your customers covered with a uniquely comprehensive portfolio of highly flexible and scalable full 10-Gigabit switches that fit every business need. From 8 to 48 ports, featuring both copper and fiber options, 1U full width and 1U half-width, NETGEAR is unrivaled in the choice it offers business customers looking for 10-Gigabit switching.
Click/Easy-Mount Switches
Simple to use mounting bracket enables vertical or horizontal orientation of ports. To install, users just mount the bracket onto a wall, desk, table leg/pole or "Virtually Anywhere", and "Click" the switch into the bracket. The Easy-Mount Virtually Anywhere™ mounting system gives your customers the flexibility to place their PoE+ ports in locations where other switches will not go (under a counter/table, on the wall, on a pole or table leg, or even up in the ceiling or in ventilation ducts with its plenum rating).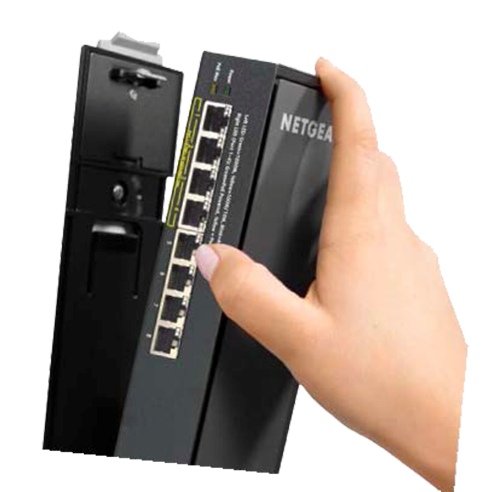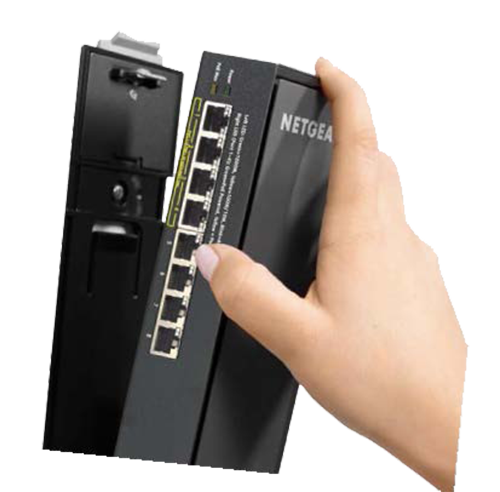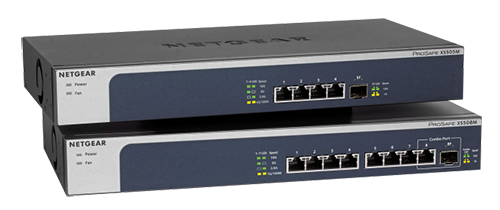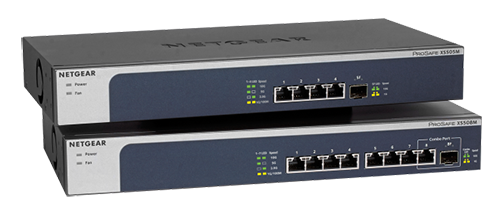 Unmanaged Switches
Unmanaged switches are the ideal solution for small and medium organizations looking to expand their network with a Plug-and-Play solution. NETGEAR Unmanaged Switches offer a wide range of models for different network deployment requirements. Unmanaged switches are plug-and-play switches for businesses in need of instant connectivity with no management required. These energy efficient switches are well built and rigorously tested to provide the reliability businesses need. 802.1p traffic prioritization and jumbo frame support allow for seamless integration with more sophisticated networks.
Smart Managed Plus Switches
Smart Managed Plus switches are the ideal solution for small and medium organizations looking to step up from unmanaged switches and go beyond simple network connectivity. NETGEAR Gigabit Smart Managed Plus Switches deliver network monitoring, traffic prioritization and network segmentation to small businesses who want more visibility and control on top of plug-andplay connectivity.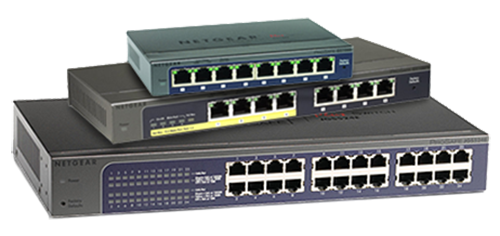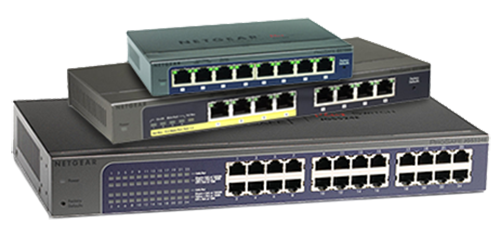 Smart Managed Pro Switches
The Smart switch category was created by NETGEAR more than 12 years ago which has become the largest and fastest growing segment of the SMB switch market. NETGEAR is the undisputed market leader in switching, having built the widest most affordable business-grade portfolio in the market. Smart switches are the ideal solution for the most advanced small and medium organizations looking for the best combination of features, performance, and value. NETGEAR Smart Managed Pro Switches are purposely designed for converged networks where voice, video, and data are all carried on a single network platform.
Smart Cloud Switches
NETGEAR is revolutionizing the switching business with their new Insight Managed Smart Cloud network devices with full remote management and monitoring capabilities. Networking and IT made easy is now reality! With NETGEAR Insight app and Insight Cloud Portal, your customers can now quickly discover, setup, monitor and manage their Insight Managed Switches, Insight Instant VPN Routers, and Wireless Access Points as well as your Business-class ReadyNAS storage devices, from anywhere!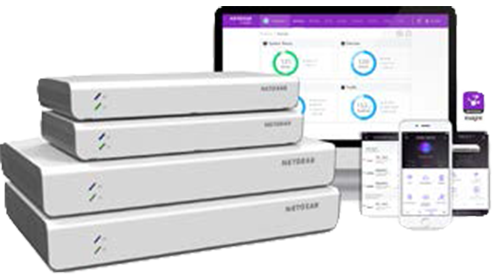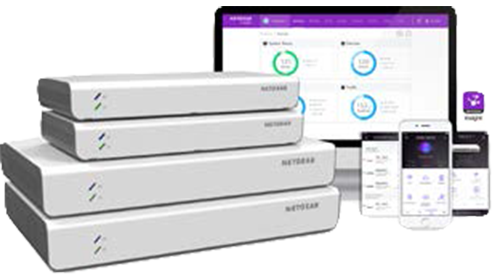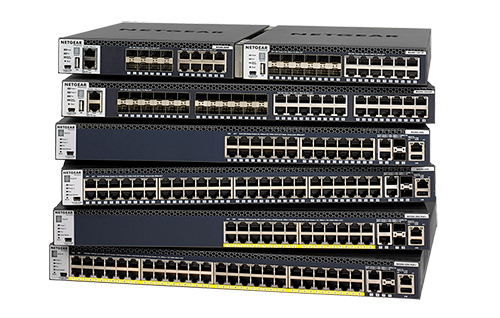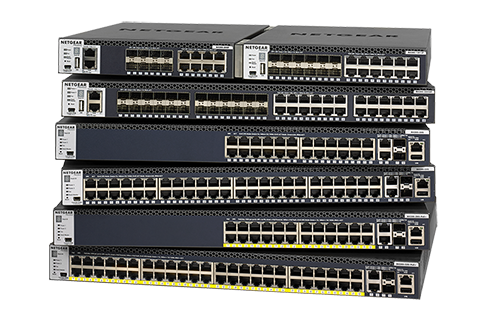 Fully Managed Switches
NETGEAR Fully Managed Switches connect end-users, critical services, servers and storage across flexible core, distribution and access layers. NETGEAR's Managed Infrastructure combines the latest advances in hardware and software engineering for higher flexibility, lower complexity and stronger investment protection. A single-pane-of-glass management platform – NMS300 – increases overall operational efficiency.
Orbi™ Pro
The Orbi™ Pro Tri-band WiFi System for Small Businesses with patented FastLane3 technology joins the award-winning Orbi Tri-band Home WiFi System product family as the industry's first purpose-built WiFi solution specifically designed for small business owners to install themselves. The Orbi Pro Tri-band WiFi System provides growing businesses with secure, reliable, and blazing fast WiFi. Orbi Pro is the perfect WiFi solution for commercial locations such as professional offices, restaurants, retail, or bed and breakfast inns, which would benefit from easy to set up WiFi. With Orbi Pro, there is no wiring, professional installation, or added IT costs.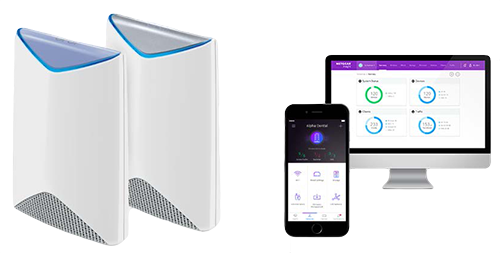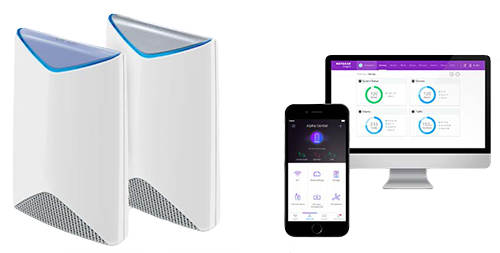 Wireless Management
Wireless networking continues to be a growth area, fueled by device proliferation and a desire to be connected anytime, anywhere using any device. Independent analyst's point to more Controller based solutions being sold over standalone AP deployments, as IT departments deal with an increase in wireless management challenges that are best served with a centralized management platform. Users can choose to manage their WLAN either through the Cloud with Business Central Wireless Manager, or with a hardware based on site controller.
ReadyNAS Storage
This is a data based economy. Most companies utilize data for different aspects of their business. Without an exception, data backup is part of any operational plan and every business continuity plan. If your customers are looking for a data backup solution, ReadyNAS is the leader in the industry for SMBs – limited budget, but highly scalable with enterprise class reliability and security.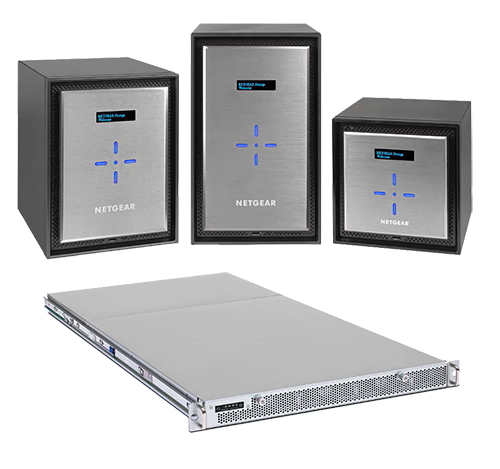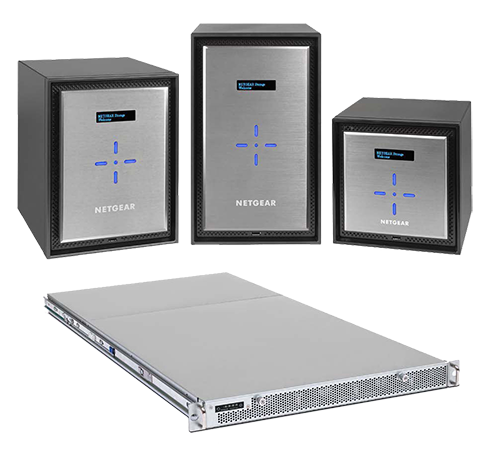 Watch the Videos Below to Learn More About NETGEAR