Alert Logic
Alert Logic, the leader in security and compliance solutions for the cloud, provides Security-as-a-Service for on-premises, cloud, and hybrid infrastructures, delivering deep security insight and continuous protection for customers at a lower cost than traditional security solutions. Fully managed by a team of experts, the Alert Logic Security-as-a-Service solution provides network, system and web application protection immediately, wherever an IT infrastructure resides.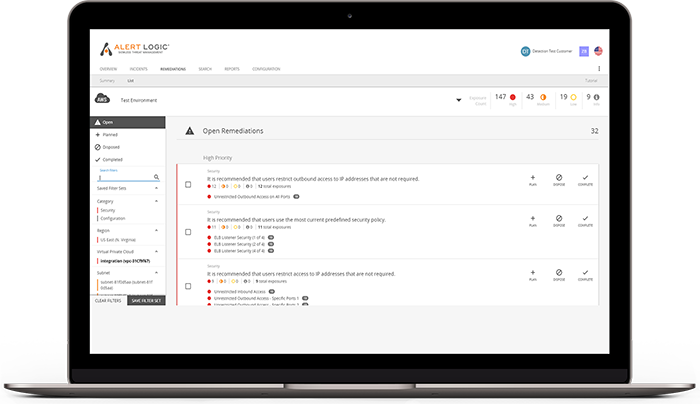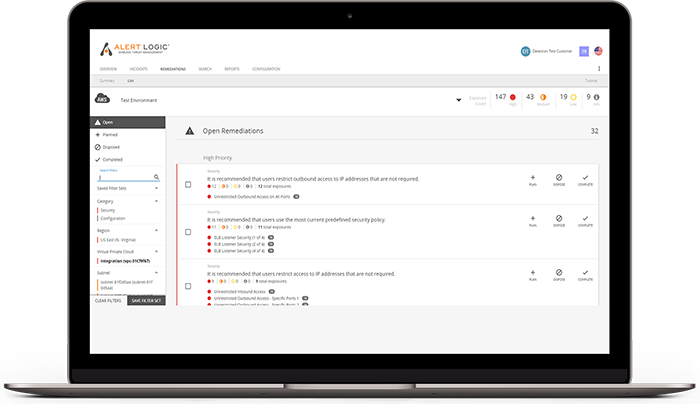 Threat Manager™ - A network-based intrusion detection system and vulnerability scanning product that monitors network traffic around the clock in order to identify known incidents, vulnerabilities and misconfigurations.
Log Manager™ - A log management solution designed to collect, aggregate and normalize log data from any environment in order to meet compliance mandates and identify security issues.
Web Security Manager - A managed Web Application Firewall (WAF) that detects and protects applications from advanced web application attacks to ensure uninterrupted availability.
ActiveWatch™ - A managed service that provides 24 X 7 monitoring of Alert Logic products, including a core team of security and compliance experts that investigate security incidents identified by the Alert Logic® ActiveAnalytics™ platform, and work with each impacted customer to provide recommendations for neutralizing the threat.
LogReview - Daily event log monitoring and review designed to help meet PCI DSS, HIPAA, SOX, and other compliance mandates; a team of certified security analysts acts as an extension of your customer's team to expertly review their log data daily and alert them whenever suspicious activity or possible security breaches are detected.
Cloud Defender™ - Threat Manager, Log Manager and Web Security Manager products bundled with the Alert Logic® ActiveWatch™ service that can be purchased together in the Alert Logic® Cloud Defender™ suite.
Cloud Insight - A cloud-native vulnerability and configuration management product specifically designed to protect workloads and applications running on AWS.