Altronix
A global leader in power and data transmission solutions for professional Security, Surveillance, Access Control and Fire applications, Altronix designs and manufactures innovative solutions that integrate disparate infrastructure and maximize overall performance and efficiency. Their comprehensive line of power products and peripherals feature the quality, reliability and unparalleled customer support that have been associated with Altronix for over 35 years – proudly made in the U.S.A and backed by a Lifetime Warranty.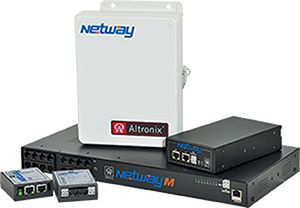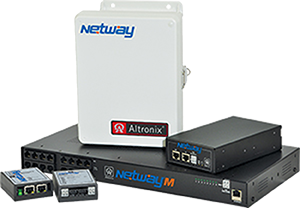 NetWay
Altronix NetWay automatically provides the precise power required by cameras or edge devices. These units are IEEE 802.3af (PoE) and/or IEEE 802.3at (PoE +) compliant to support both PoE and non-PoE IP devices (utilizing NetWay1512 or NetWay3012 adapters). NetWay products provide system designers/installers with maximum versatility and cost-efficiency when integrating networked surveillance systems.
NetWay Spectrum
Altronix's new NetWay Spectrum series takes fiber and power to a new level. Indoor and outdoor models include hardened Ethernet PoE+ switches and rack mount media converters with or without integral power. These units can be deployed with conventional single or multi-mode fiber, as well as composite cable that combine fiber with power to simultaneously deliver both, power and data. Go further with NetWay Spectrum from Altronix.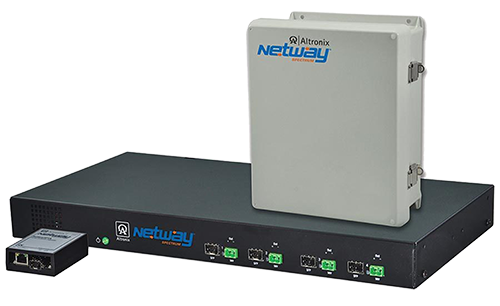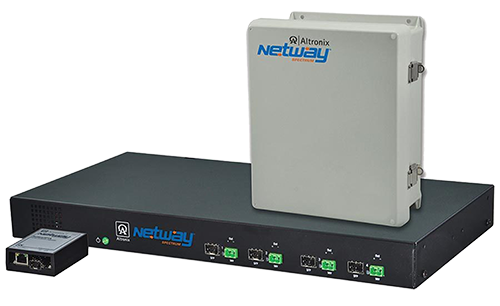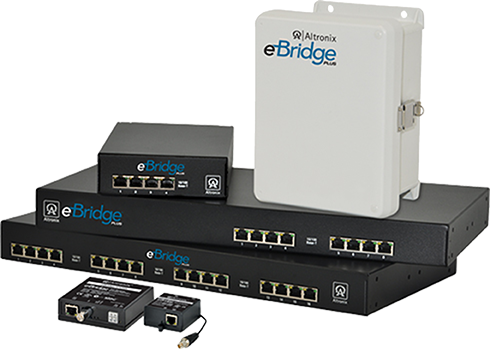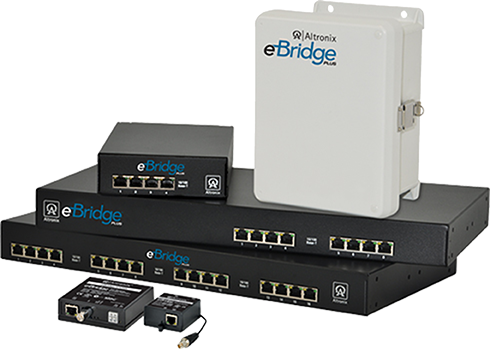 eBridge
eBridge Ethernet over coax Adapters are a cost-effective solution to upgrade and expand security and surveillance utilizing coax, while supporting PoE, PoE+ and Hi-PoE devices. eBridge can reach distances up to 500m – five times standard Ethernet range.
Pace
Pace™ Long Range Ethernet Solutions let users locate IP devices beyond the standard Ethernet range. Pace supports PoE and PoE+ with data rates up to 100Mbps full duplex. Extend your customers' IP devices over greater distances with Pace.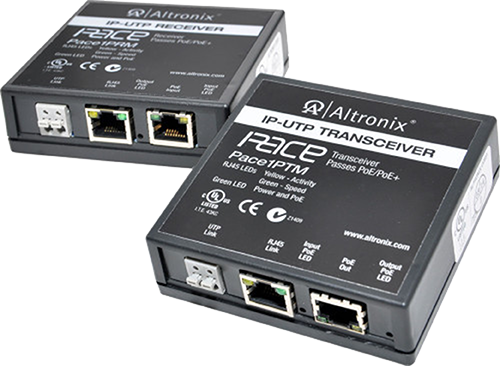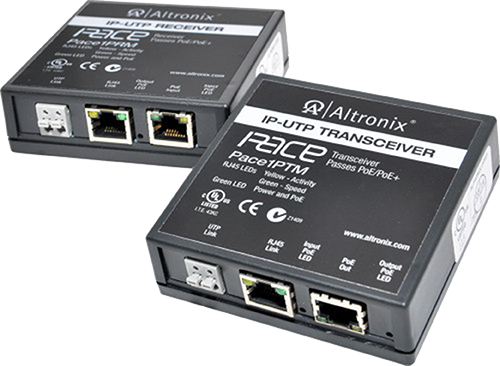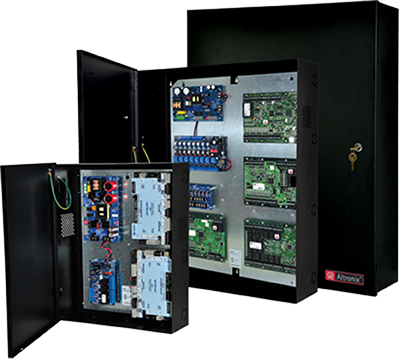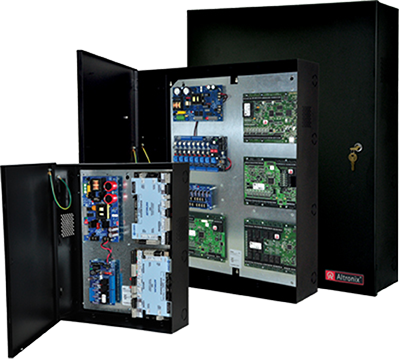 Trove
Altronix Trove™ access and power integration solutions easily combine Altronix power and accessories with access controllers available from the industry's leading manufacturers. A variety of backplanes offer a wide range of scalable access and power configurations. This solution simplifies board layout and wire management, while reducing installation and labor costs.
eFlow
eFlow™ Power Supply/Chargers with our optional LINQ™ technology lets users monitor and control power while reporting system diagnostics from anywhere via Email/Windows Dashboard notifications. eFlow charges batteries 30-50% faster and offers an extensive complement of features including fire alarm interface. Integrate with eFlow to assure greater system functionality.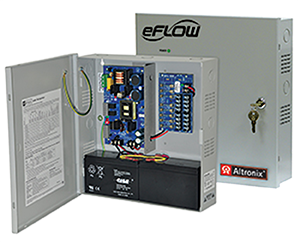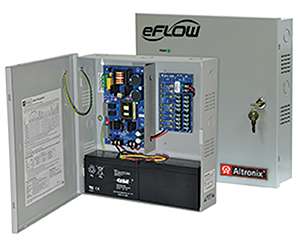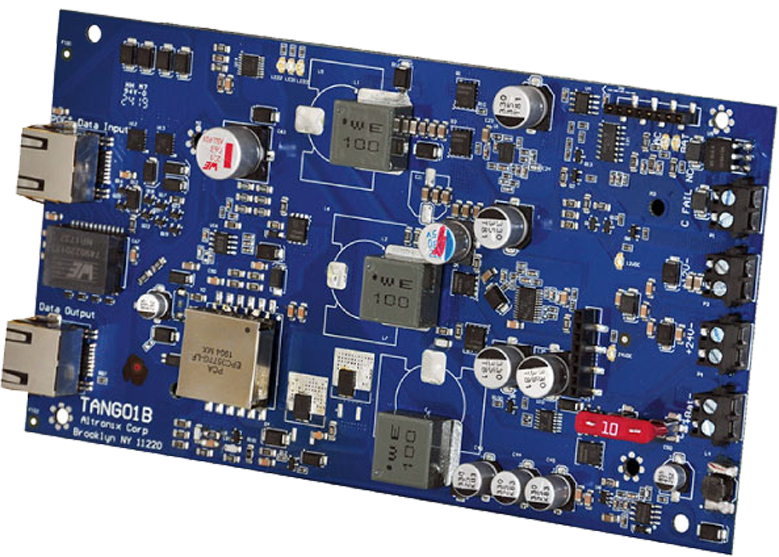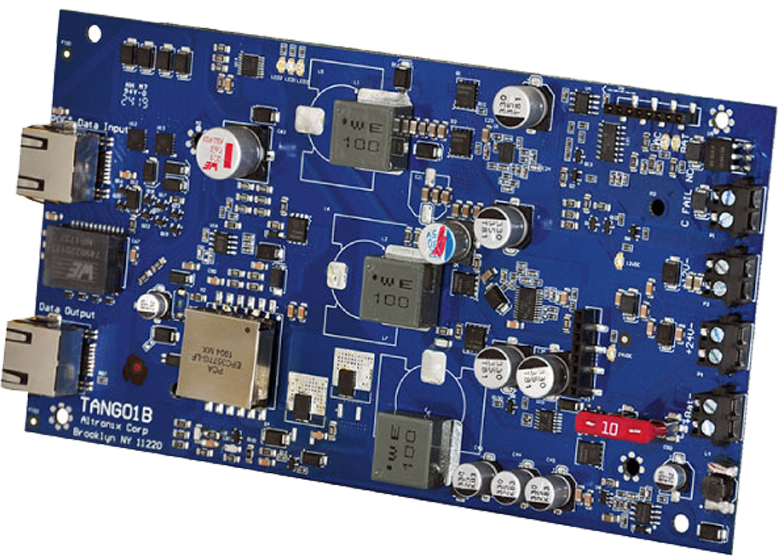 Tango – PoE Driven Power Supply/ Chargers
Altronix Tango1B PoE Driven Power Supply/Charger converts an IEEE802.3bt PoE input into a regulated 24VDC and/or 12VDC output up to 72W. Ideal access installations, it eliminates the need for a high voltage power supply inside of an enclosure. The Tango 8-pin connector allows for stacking with compatible Altronix sub-assemblies such as ACMS8(CB), LINQ8ACM(CB) or PDS8(CB) saving valuable enclosure space. Tango1B is designed to support a single 12V LiFePO4 (Lithium Iron Phosphate) battery for high storage and charge/discharge cycle life reliability.