Calero
Calero offers a wide range of Communications Lifecycle Management (CLM) solutions designed to turn communications data into actionable insight by simplifying the management of voice, mobile and other unified communications (UC) services and assets. VeraSMART (eCAS) Call Accounting software, with new InSight Analytics, helps busy Telecom/UC Managers answer in-house inquiries quickly and efficiently, make sense of their call data, and optimize their telecom networks. Calero's CLM approach supports the full communications lifecycle, from procurement to payment, with software and services for Telecom Expense Management, Managed Mobility Services, and Usage Management.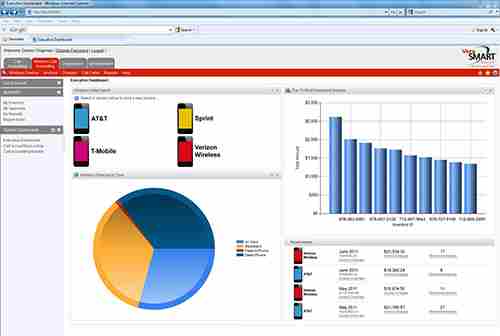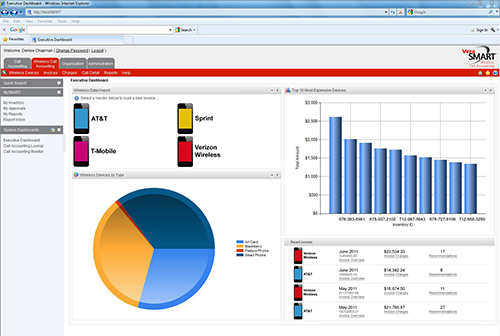 VeraSMART® Call Accounting & Reporting
Today's voice communications are a composite mix of enterprise legacy-based systems, TDM and MPLS networks, VoIP services, and wireless communications making the collection of call record data exceptionally difficult and time consuming. Calero's VeraSMART Wireline and Wireless Call Accounting software helps your customers combine, simplify and share landline, cellular, and other business data and allocate telecommunication charges so that they can quickly deal with reporting inquiries, and stay focused on their business operations. With enhanced dashboards, flexible reporting capabilities, and options including InSight Analytics, Personal Call Identification, and Multinational CDR rating, VeraSMART is the call accounting solution your customers will never outgrow. Available as on-premise or in the cloud, VeraSMART provides a complete, integrated, and easy-to-use telecom reporting solution designed with the busy telecom executive in mind.
Telecom Expense Management
The explosion of mobile devices, wireless communications, apps, and access to data outside the organization have driven added cost and complexity. Shifting rate plans, Bring Your Own Device (BYOD), and newfound liabilities all pose added challenges for Communications Executives worldwide. The Calero Wireless Expense Management solution provides the insight and transparency required to simplify your wireless communication costs, enhance services, increase productivity and improve regulatory compliance.