GoTo
Since day one, GoTo (formerly known as LogMeIn) has helped people and businesses do their best work – simply and securely – from anywhere. Today, work and life are intertwined. At GoTo, they like to think of themselves as your go-to. GoTo helps you focus on the 
things that matter most throughout the day: your projects, your professions, and even your personal passions.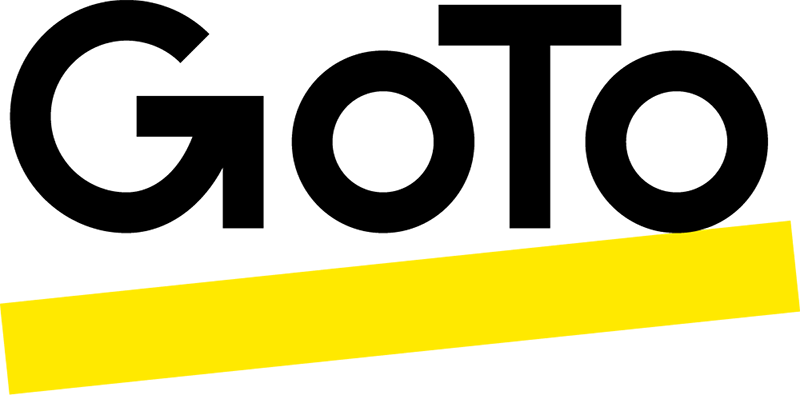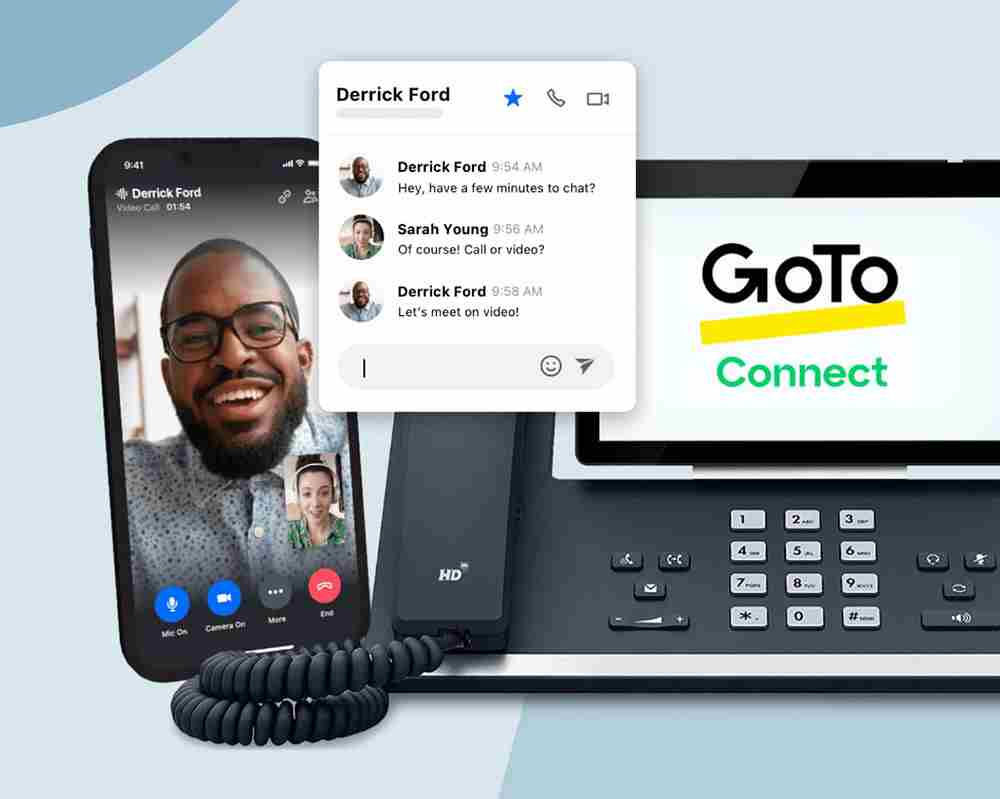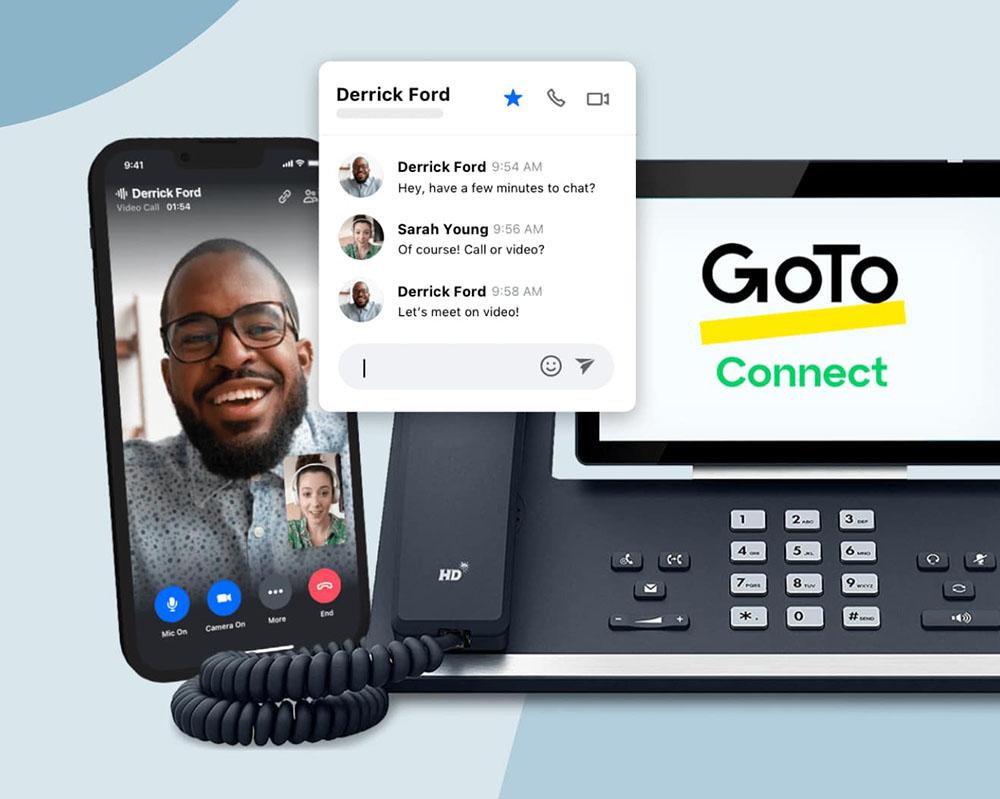 GoTo Connect
One solution. So many ways to stay connected.
Simple, secure, and built for flexible work, GoTo's cloud phone system has meetings and messaging built right in.
Easy setup and configuration
Getting your system up and running is as simple as ordering lunch. Quickly configure all of your call routing in a visual editor.
Calls from anywhere
GoTo Connect works where you do. Easily switch between your desk phone, desktop app, or our mobile app to stay connected.
Face-to-face collaboration
Get HD video conferencing included with every license and consolidate your communication tools with one application.
GoTo Contact Center
Easier-than-ever engagement
Deliver better customer experiences and boost sales with a cloud contact center solution built for small- and medium-sized businesses.
Cloud-based flexibility
Help your team be productive from home, the office, or wherever they work best.
One-day deployment
Get up and running in one day with a seamless onboarding process.
Hassle-free IT
Easily configure and manage your contact center solution in a simplified admin portal.
Create better customer outcomes
Build the right workflow to deliver top-notch experiences and get customers the results they deserve. Route customer calls to the right agents and offer queue call-backs. Speed up outbound dialing or trigger pre-recorded voicemails. Switch seamlessly between voice, video, SMS*, and chat.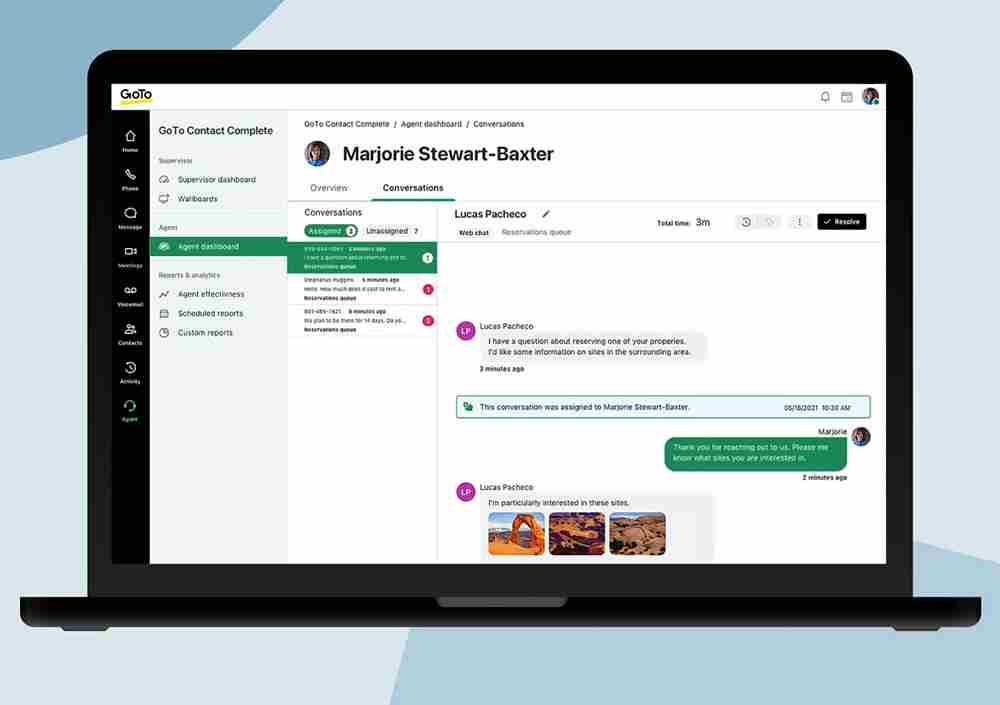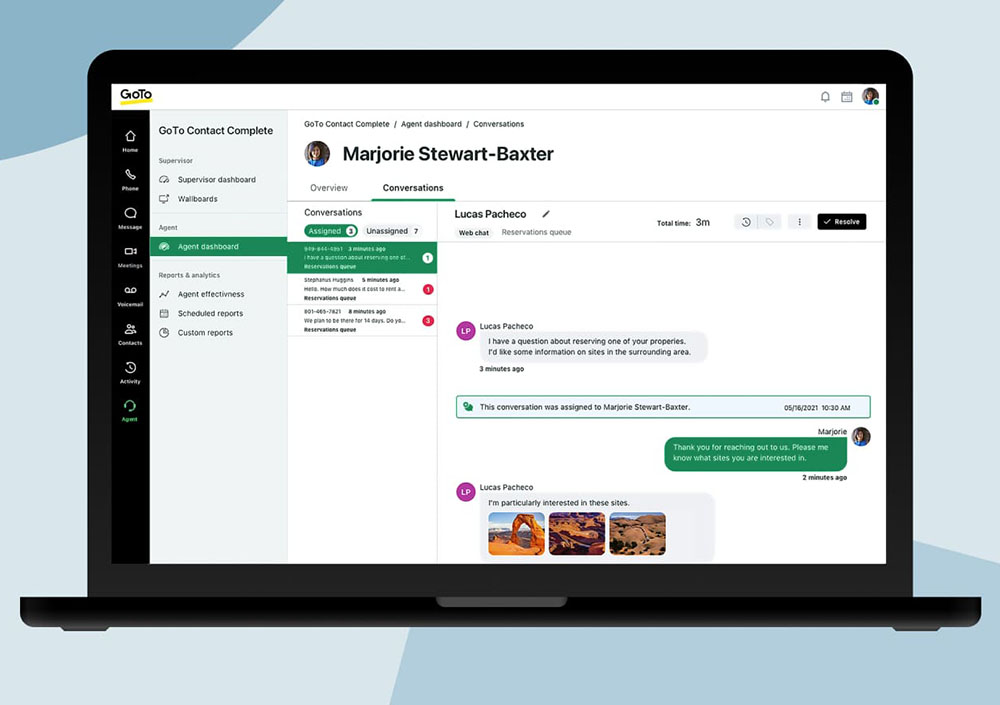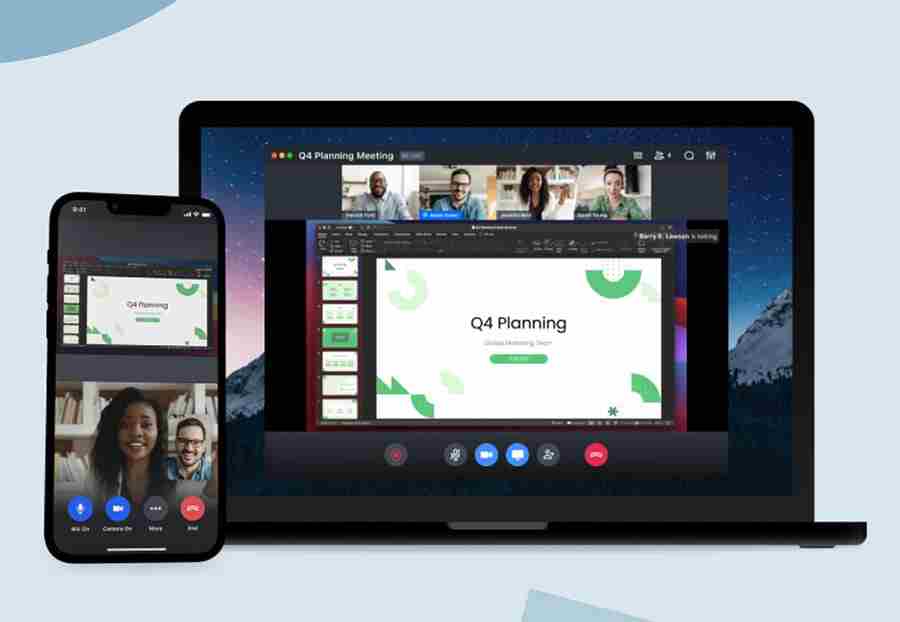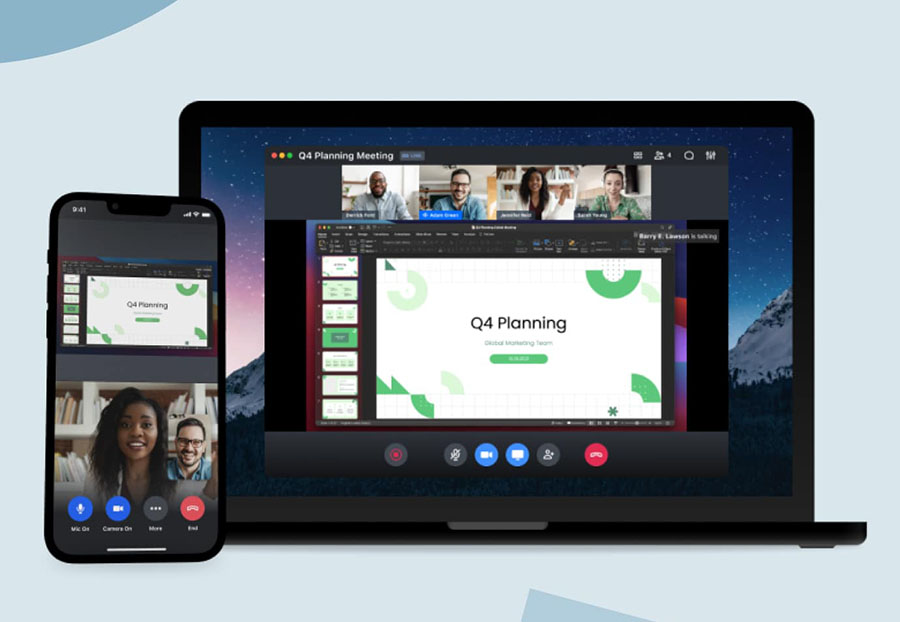 GoTo Meeting
Web conferencing made simple
Click-to-join online meeting software with enterprise-grade security – perfect for a work-wherever world.
Quick, secure access
Virtual meetings are easier than ever. No downloads necessary to join in.
Award winning, on any-device
GoTo's reliable virtual meeting platform scores stellar ratings from both iOS and Android users.
So many ways to GoTo
From communication & collaboration to IT support and management, there's nothing GoTo can't do.
Serious security
80+ million annual online meetings: Each and every one with the same enterprise-grade security.
Unbeatable uptime
Backed by an industry leading 99.996% service uptime, GoToMeeting was designed for dependability.
GoTo Webinar
Hassle-free webinar software
From remote employee trainings to hybrid all-hands; pre-recorded product demos to multi-day conferences – GoTo Webinar makes events easy.
Your all-in-one virtual event platform
With customizable modes, interactive features, insightful analytics, powerful integrations, and flexible pricing, our intuitive webinar platform has everything you need to host virtual events of all sizes.
Safety
Keep everyone's data safe and your events uninterrupted with enterprise-grade security.
Simplicity
Setup takes just minutes, and webinars are simple to manage. No IT support needed.
Scale
Up to 3,000 attendees can join your GoTo Webcast from their browser – no downloads required.

Seamlessness
Track leads by integrating your CRM. Launch meetings from MS and integrate with your favorite apps.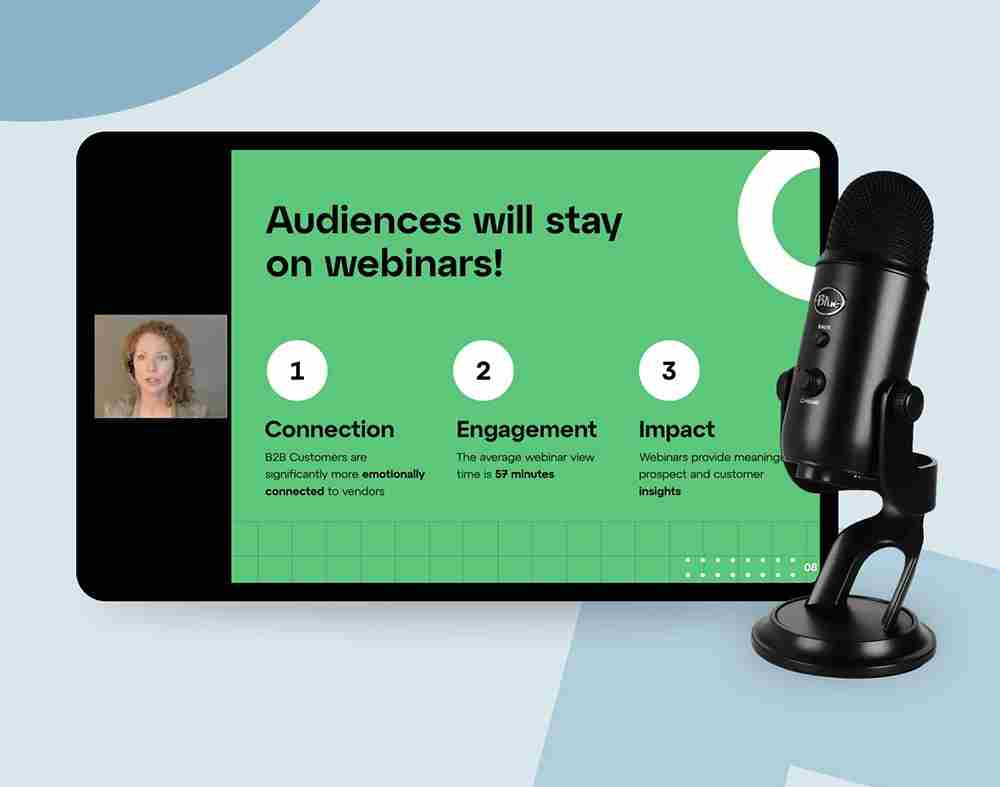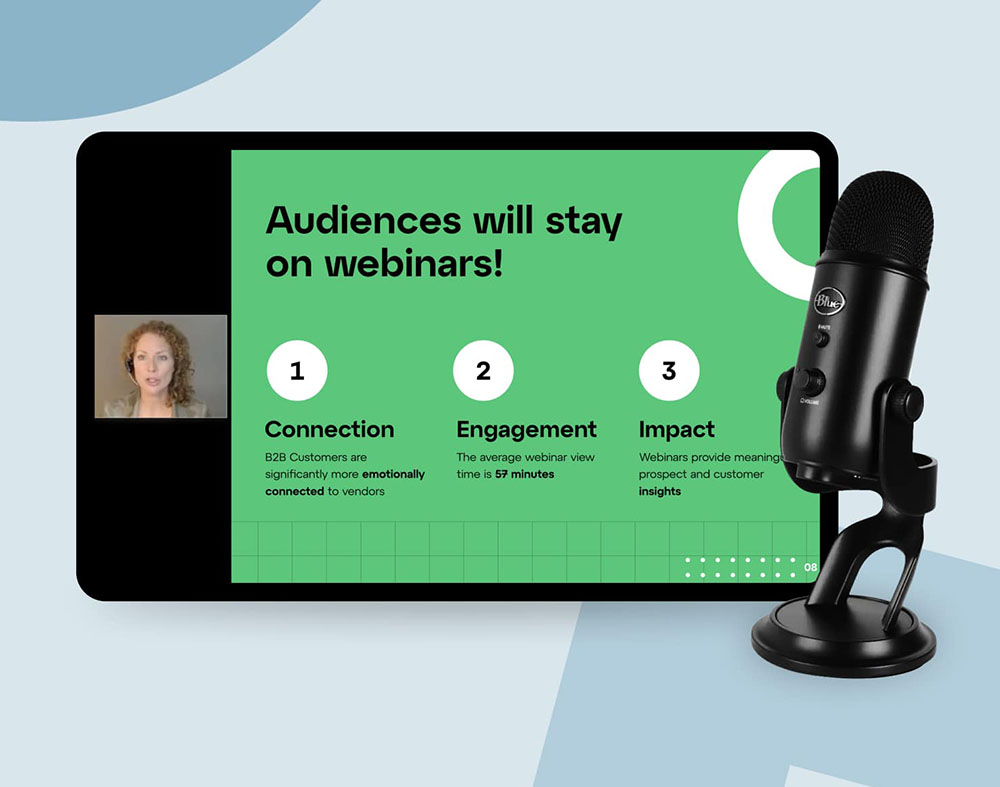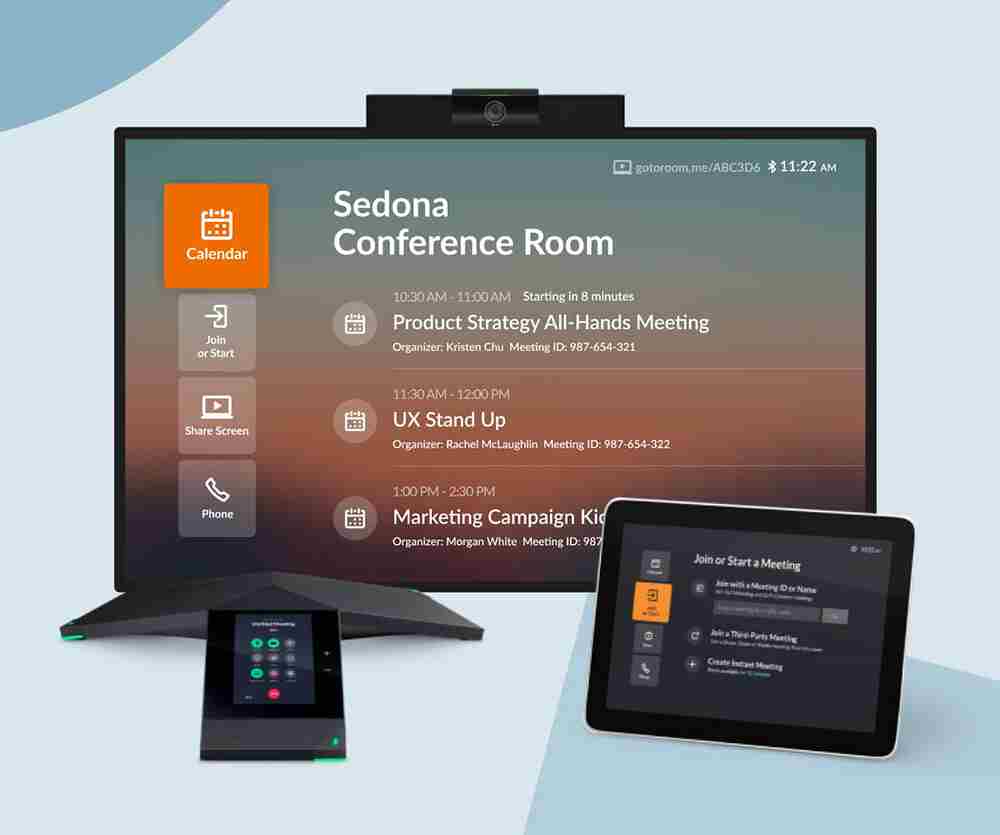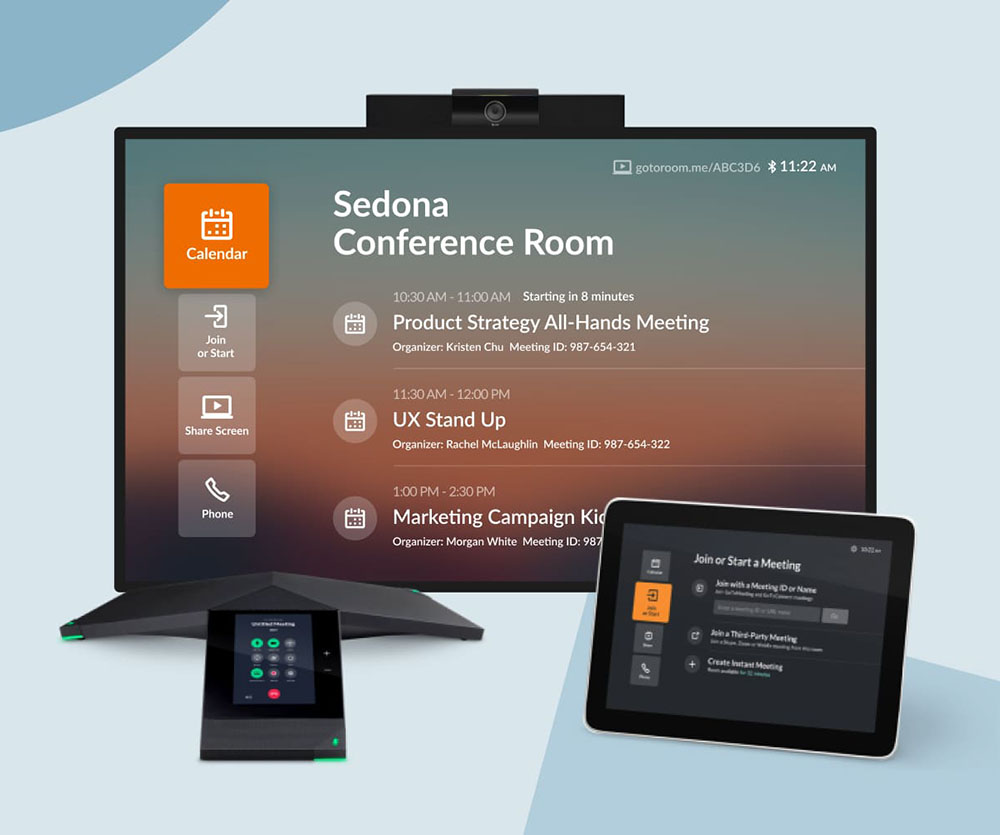 GoTo Room
Set up in minutes. Meet up in seconds.
GoTo Room offers intuitive, affordable video conferencing equipment that helps make meetings easy.
Customize your setup
GoTo Room is a hardware and software bundle purpose built for any size space.
Install in 15 minutes
GoTo Room kits come with pre-configured software and a user-friendly installation guide.
Meet up with GoTo Meeting
Integrations give users industry leading reliability and a familiar interface.
GoTo Training
More impactful trainings for the win
GoTo's online training software powers virtual learning that engages before, during, and after sessions.
Virtual training made easy
Deliver training on any device. Break out into smaller group sessions for real-time engagement.
Validate and award trainees
Certify attendees as they complete sessions with testing and evaluations.
Grow your business
Accept payments in advance to save time and resources.
Unrivaled reliability
GoTo Training has hosted over 700,000 annual trainings with over 3 million annual attendees.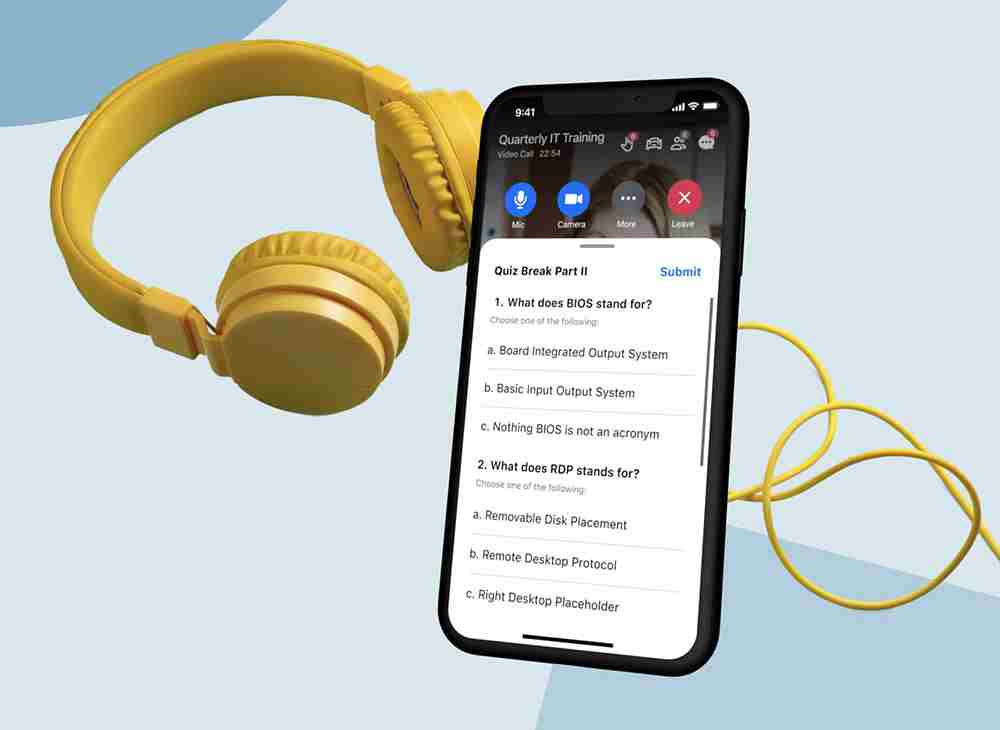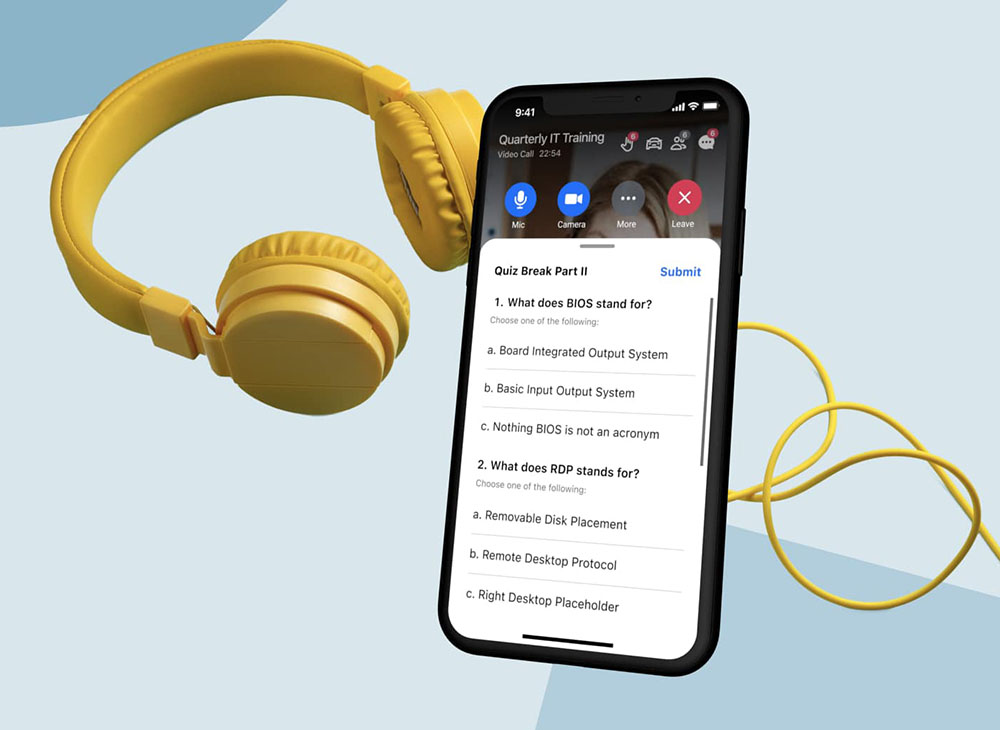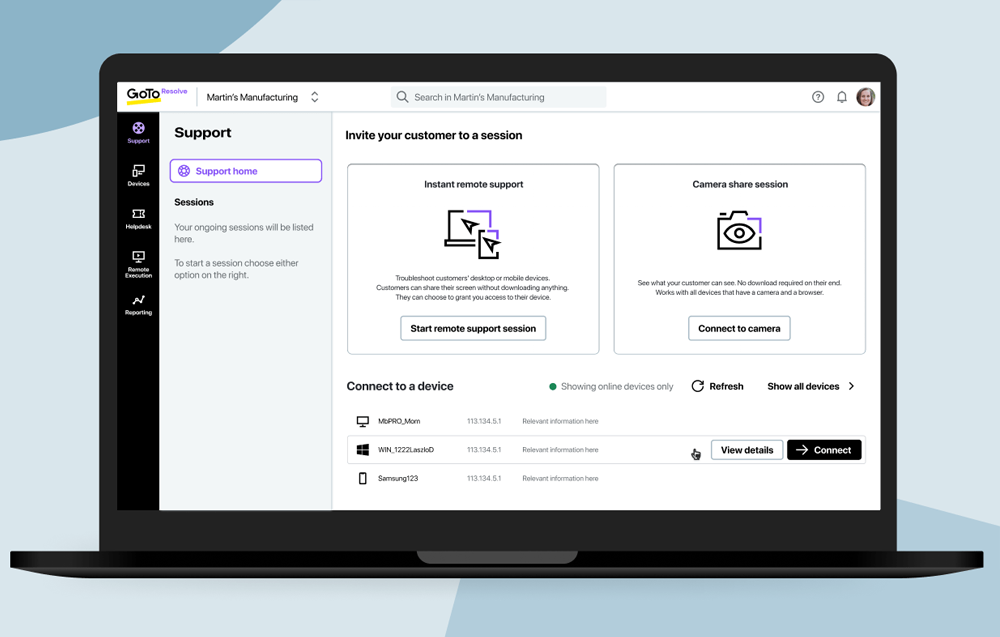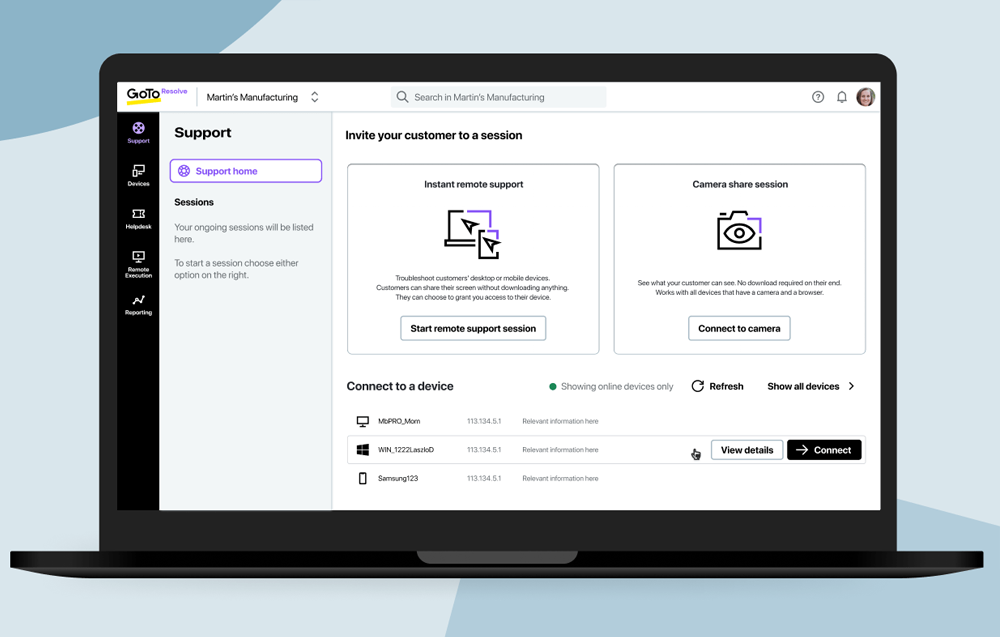 GoTo Resolve
Game-changing remote IT support software
Introducing GoTo Resolve: Refreshingly simple, all-in-one IT support, fortified with zero trust security for unparalleled ease and peace of mind.
Consolidate support
Respond, act, and resolve issues – all in one place. Now resolving a help desk ticket is as easy as having a conversation.
Maximize productivity
Time-optimizing features like unattended access and multi-session handling let agents and employees get more done.
Make secure IT simple
With enterprise-grade security and consumer-grade ease of use, systems stay safe while business stays up and running.
Remote access & IT support
Speed up resolutions, starting with a fast, frictionless join flow. All the tools an agent needs to resolve issues are on a single dashboard, including:
In-session system diagnostics
Reboot/reconnect
Admin mode
File transfer
Multi-session handling
and more
Pro
Maintain Day-to-day Operations with the Most Reliable Remote Access Tool
Remote Control
Quickly access your computer desktop as if you were sitting in front of it.
Unlimited Users
Extend computer and file access to anyone for instant collaboration.
Password Management
Complimentary access to LastPass to store all accounts in a secure password vault.
1TB File Storage
Easily store all of your files, access them from anywhere, and quickly share with anyone.
Remote Printing
Print documents from a remote computer to the nearest local printer.
Multi-Monitor Display
View multiple remote monitors presented 1:1 on your local screens.
LogMeIn Antivirus powered by Bitdefender
Protect your computers from cyber-threats, including malware, viruses, and sophisticated online threats.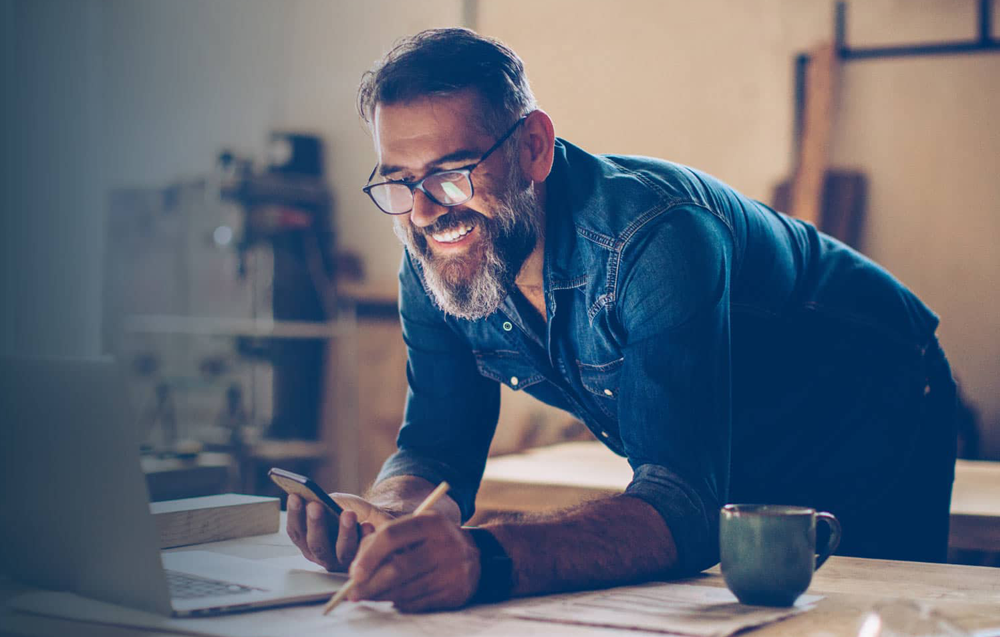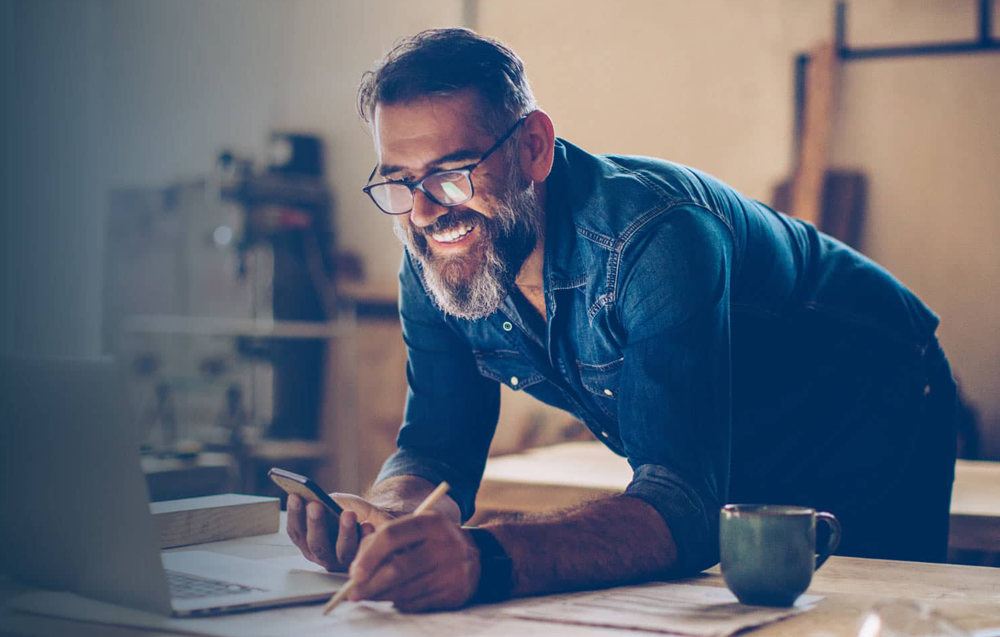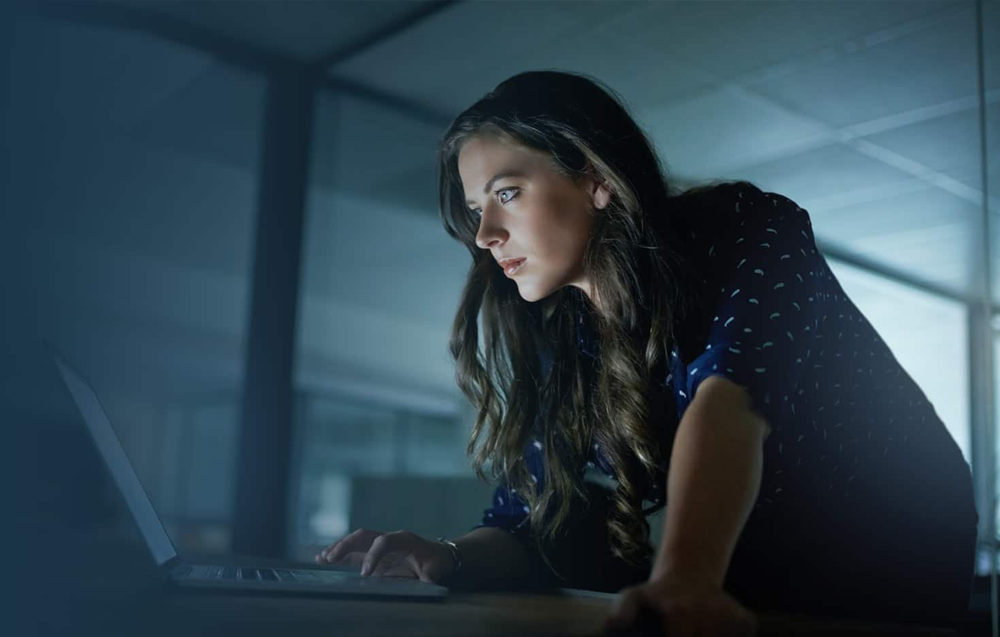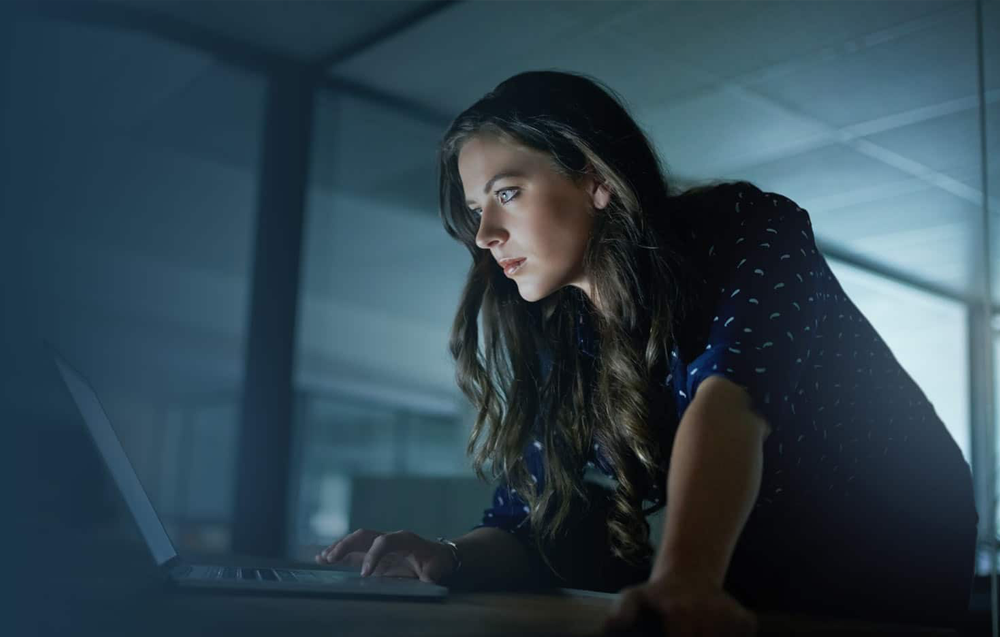 Central
Maintain Your IT Infrastructure from Anywhere with Powerful RMM Software
Internal IT Teams
Do more in less time with fast, reliable remote access on iOS & Android, software updates that don't interrupt end users, and inventory reports to keep your IT team organized.
Managed Service Providers
Keep your business – and your customers – up and running with the #1 most reliable remote control, computer and user grouping, and automated software updates.
Kiosk, POS & Signage Support
Manage all of your end points from anywhere with a single view dashboard where you can monitor status from any device, manage alerts for connectivity, and deploy software.