IntelliTouch
IntelliTouch is the telecom industry's recognized leader and innovator of advanced audio messaging, background music delivery and wireless audio distribution products. Founded in the heart of the Sorrento Valley telecom technology center in 1992, IntelliTouch maintains a vision to create the most technologically advanced, yet elegantly simple products on the market. The company's unmatched commitment to product innovation and the highest levels of quality and service continues to set IntelliTouch apart from others in the industry.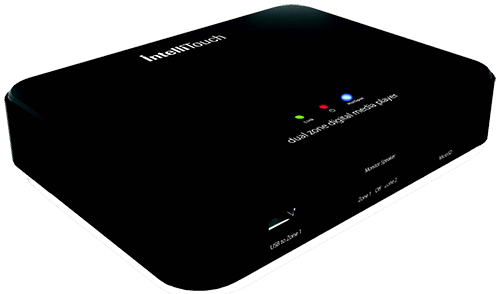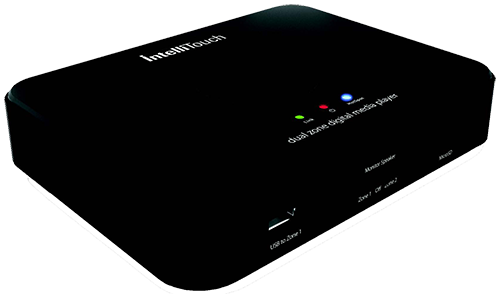 9000-IP Series – Dual Zone Network Audio Player
With IntelliTouch's dual zone audio player, users can play both message on-hold and streaming background music, simultaneously and independently, all from the same device. Users can connect the player to the internet via LAN or Wi-Fi for content updates or use any USB flash drive to update the player if no network connection is available. IntelliTouch's powerful, yet simple web browser interface allows users to manage a single player or groups of players, all from one place…in the cloud.
8000 Series – USB Flash Drive Player
The OHP 8000 features ordinary USB flash drive operation, for easy transfer of audio content from PC/Mac to the player. The OHP 8000 includes a preloaded 128 MB USB flash drive with 3 hours of music and messages. The rugged unit supports over 140 hours of playback time (via 2 GB USB flash drive).