NVT Phybridge
NVT Phybridge is the leader in Power over Long Reach Ethernet (PoLRE) using Modern LAN principles and SmartPathPoE™ technology to make IP connections efficient and cost-effective. Our CHARIoT Series of switches help customers modernize to an IP based network, transforming the existing or new infrastructure into an IP path with power. NVT Phybridge is a North American-based technology company with global reach dedicated to practical innovation. Their number one priority is bringing innovative and affordable solutions to market that are technologically advanced as well as practical for the customer.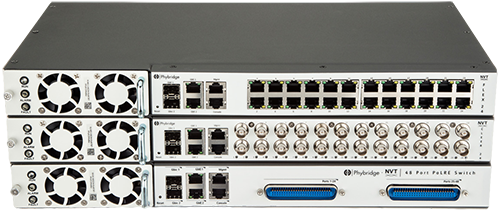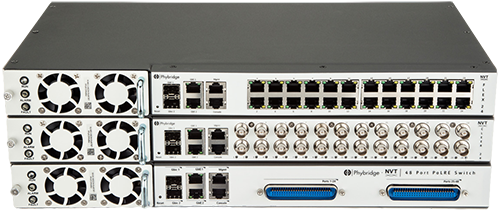 NVT Phybridge CHARIoT - IP Made Simple
NVT Phybridge CHARIoT Series Long Reach PoE solutions eliminate IT barriers, costs, and risks associated with establishing IP. Each solution family leverages existing and/or new infrastructures to create all IP networks packed with power and extended reach to flawlessly connect IP-enabled devices, endpoints, and applications without disrupting business or compromising security.
NVT Phybridge CLEER - Coax-to-IP Made Simple
The CLEER24 (Coax Leveraged Ethernet Extended Reach) managed switch makes the modernization to IP devices (IoT) simple, secure and cost-effective. When paired with the EC Adapters, this powerful enterprise-grade switch delivers fast Ethernet and PoE+ over coax cable with up to 4,000ft (1,220m) reach – that's 12Xs the reach of standard Ethernet switches. The CLEER24 comes standard with robust power management capabilities and an industry leading, simple to use GUI interface.