Poly

Poly is now a part of HP
The rise of remote and hybrid work has created huge demand for solutions that make new ways of collaboration and co-creation possible. The combination of Poly and HP will pave the way for us to create the hybrid work experiences of the future. Now one company, we are stronger together, innovating for customers & partners to support them on their once-in-a-generation quest to redefine the way work gets done.
HP and Poly will offer unique benefits for IT teams, including:
Addressing all your hybrid work needs in one place enables you to match solutions to individual and organization needs while increasing buying power and reducing costs.
Access to Poly and HP's audio and video innovations to create the most engaging and productive collaboration experiences.
Deep integration with leading hybrid work platform providers ensures worry-free interoperability and great user experiences.
Comprehensive management and security simplify deployment, trouble shooting, and protection.
A globally available services portfolio delivers expert help with all aspects of a hybrid work environment.
Dedication to sustainability, combatting climate change, protecting human rights, and accelerating digital equity means you can both work smart and protect the planet.
POLY DESK PHONES DESIGNED— BETTER COMMUNICATION. BETTER PRODUCTIVITY!
Enable clearer communications with business phones. With everyone working from everywhere, phone calls have replaced hallway conversations. Poly professional business phones offer more connectivity, choice, and clarity to keep today's work moving.
Edge E IP Desk Phones: This isn't your ordinary business desk phone. They're designed to make hybrid work easy, offering more ways to connect, plus unbelievable audio, in a seriously sharp package.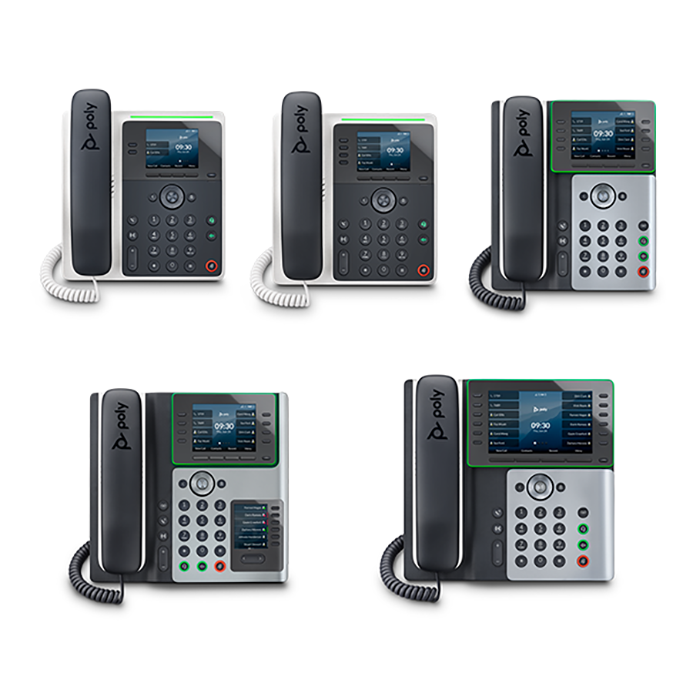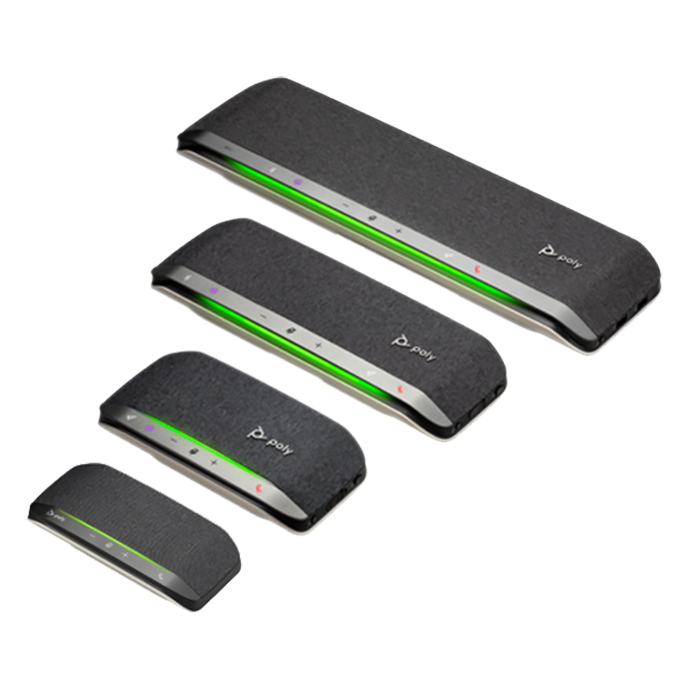 POLY SMART SPEAKERPHONES— PREMIUM SOUND, EASY CONNECTIONS, FLAWLESS MEETINGS!
Everyone deserves to hear and be heard. Poly Sync Family USB/Bluetooth® smart speaker phones make both happen with premium sound quality in personal and huddle workspaces plus small conference rooms. Voice calls flow naturally with multiple microphones that track the talker, not the noise. If people on both ends talk at once, full-duplex audio makes sure nothing is missed. It's simple to join meetings—just plug in or connect via Bluetooth.
Sync 10: For dedicated home office workers who need improved audio for calls, webinars, and music.
Sync 20: For dedicated hybrid professionals who work from home, in the corporate office, or on the go.
Sync 40: For flexible workspaces and huddle rooms.
Sync 60: For small to medium conference rooms.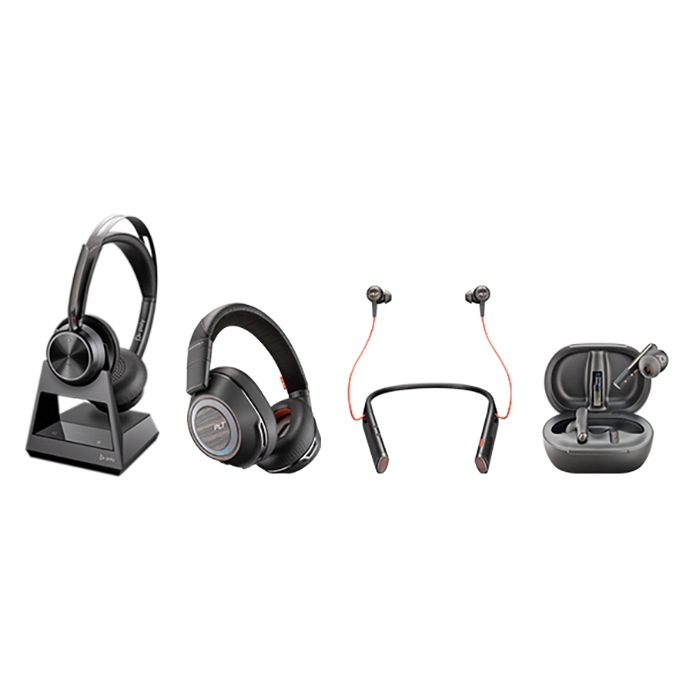 TALK, LISTEN, AND MOVE ABOUT WIRELESSLY— POLY VOYAGER HEADSETS WORK WHERE YOU DO!
Working from home? Back in the office? Both? Get a headset that moves with you. Poly's Voyager headsets are ultra-comfortable, durable and offer professional-grade sound. And because it can get noisy wherever you work — kitchen appliances, kids, noisy co-workers, ringing phones — these noise-canceling Bluetooth headsets guarantee your calls are clear and undisturbed.
Voyager Focus 2: For professionals on calls all day in noisy home or office environments looking for a premium solution.
Voyager 6200 UC: For professionals who want the flexibility to take a call and easily remove earbuds when collaborating face-to-face.
Voyager 8200 UC: Professionals working in a distracting environment at home or in the office.
Voyager Free 60 UC Series: For office and hybrid workers who prefer discrete, premium wireless earbuds.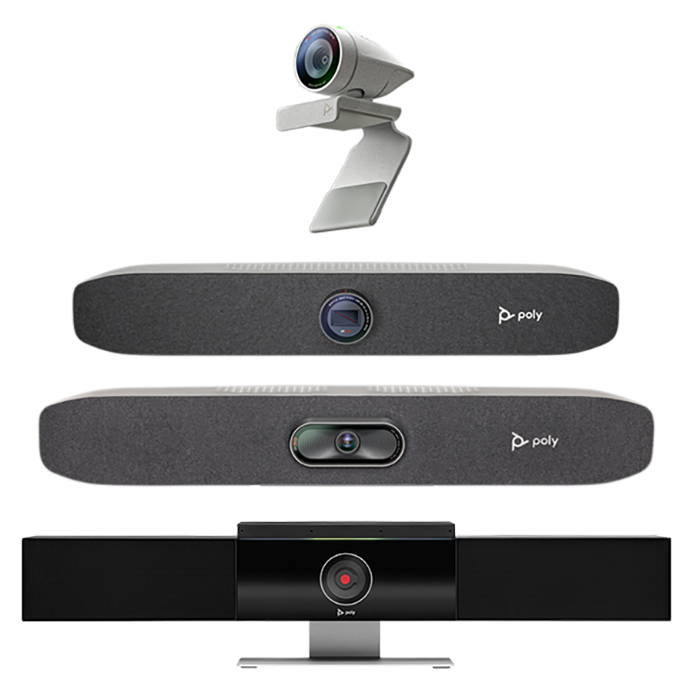 SOUND INCREDIBLE AND LOOK EVEN BETTER— POLY STUDIO VIDEO BARS & WEBCAMS DELIVER!
Poly Studio personal video devices enable you to be your best self from beginning to end. Make the most of video calls from wherever work happens. High-performance cameras compensate for lighting imbalances. Premium audio eliminates distractions. Solutions and bundles are designed to match work styles for any type of user and include simple setup and cloud services for IT.
Studio P5: For professionals s who need a high-quality gran and go video camera at an affordable price.
Studio P15: For professionals who need premium video and audio experience from their enclosed personal workspace.
Studio R30: An easy-to-use USB video bar with DirectorAI, ideal for small spaces
Studio USB: An easy-to-use USB premium video bar with DirectorAI, ideal for medium spaces
VF60 Windsmart Technology
Contact Us for Assistance with Poly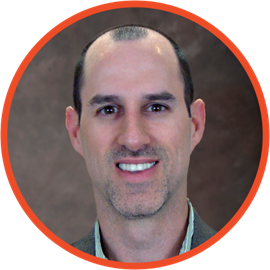 Mike Hubach
Voice ITSP, Business Development Director
440-471-3110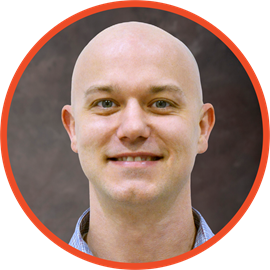 Mike Pittak
Poly Business Development Manager
800-422-6191, ext. 2884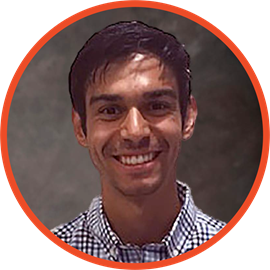 Joey Colon
Poly Business Development Specialist
800-422-6191, ext. 2885