Sangoma
In today's fast-paced world, Sangoma believes organizations can achieve greater levels of connectivity by having access to powerful, affordable communications solutions from a reliable partner and that building tomorrow's solutions will help the world to connect and collaborate in new ways. Sangoma, as a leading voice and Unified Communications (UC) solution provider, is doing just that with their award winning Cloud and On-Premise UC/PBX solutions and with their continuing product innovation.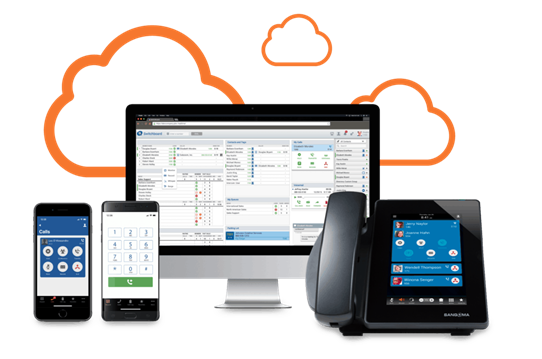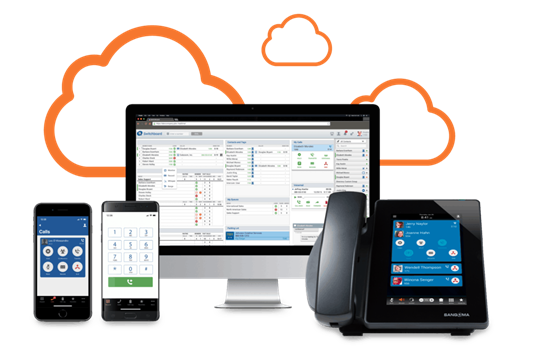 Switchvox Cloud
More than a hosted PBX, Switchvox Cloud is a full-featured Unified Communications solution that provides all of the tools and flexibility of a full-scale UC solution.
Easy and affordable hosted solution—zero upfront hardware costs
Simplifies the transition to hosted PBX
A full contact center plus mobility, call control and productivity tools for every user
Presence, instant messaging, conferencing and mobility all for a low, monthly rate
Move seamlessly from Switchvox Cloud to On-Premise—no setup or change to the user experience
Switchvox On-Premise
Switchvox on-premise delivers advanced Unified Communication features as well as more power and value to businesses that demand greater scalability, control, and customization from their phone system.
Wide range of appliances—build a VoIP phone system to match any needs
Support for up to 1000 users
Deploy on a dedicated appliance equipped with state-of-the-art technology or in a virtual environment
Flexibility to scale for future growth
Provides the necessary power and connectivity for any organization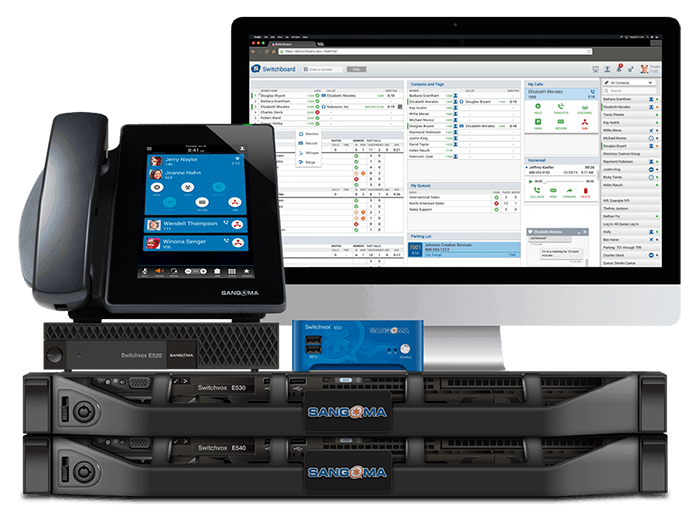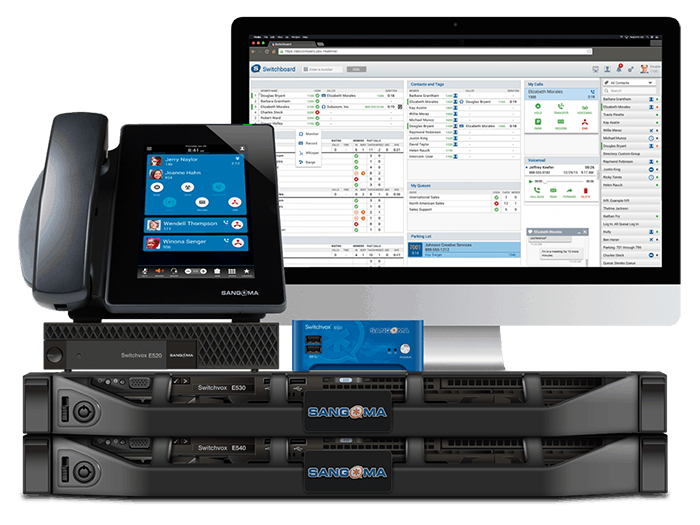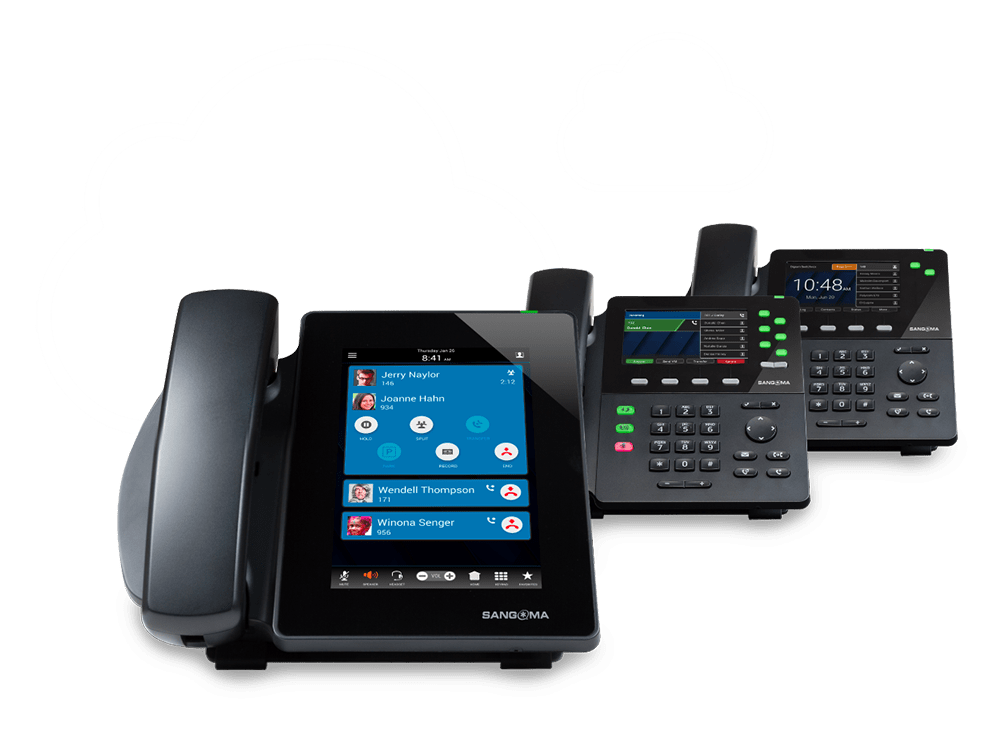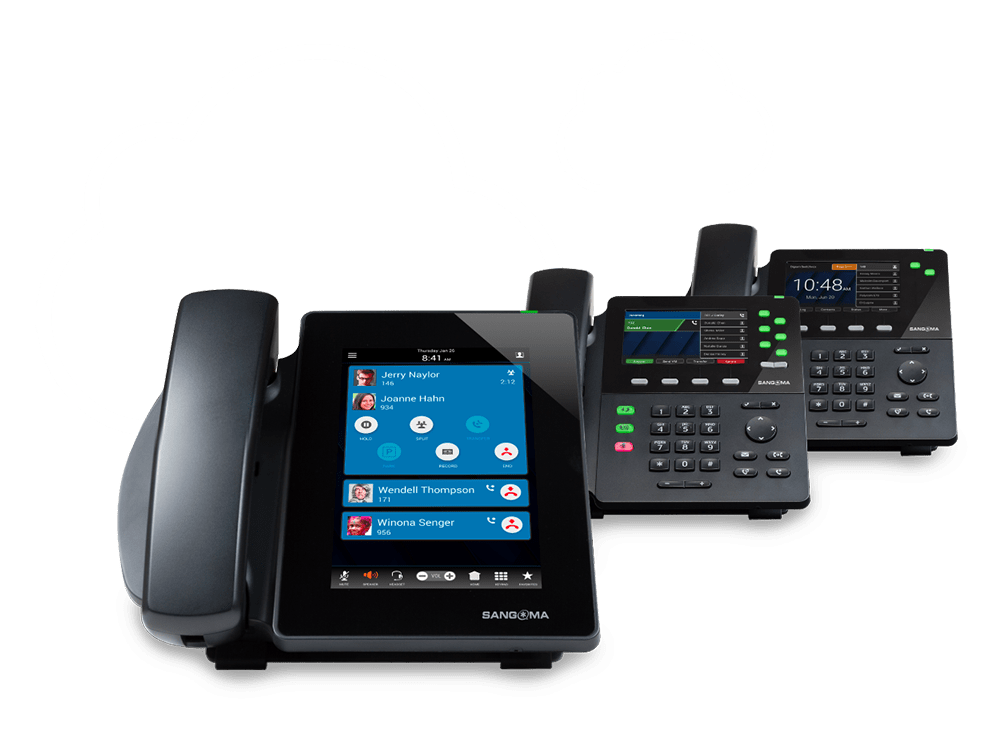 D-Series IP Phones
Sangoma D-Series IP phones are the perfect match for Switchvox and Asterisk-based phone systems. They enable you to take advantage of every benefit Switchvox and Asterisk have to offer. D-Series IP phones feature plug-and-play deployment to speed up the installation process.
Advanced applications and custom integrations
Easiest provisioning for Switchvox and Asterisk
Native phone apps like voicemail, directory, parking, call recordings and more talk directly to Asterisk
Functionality to build custom phone apps with a simple JavaScript API
PBXact Business Phone Systems
The PBXact phone system is designed for advanced deployments where the installation environment requires complex configuration and customization.
Includes most basic and enhanced features designed for SMBs.
Access to the software in order to integrate with third-party applications.
Flexible web GUI.
Auto-integration with Sangoma IP phones.
Connect to a self-service online store, allowing you to install enhancements as needed.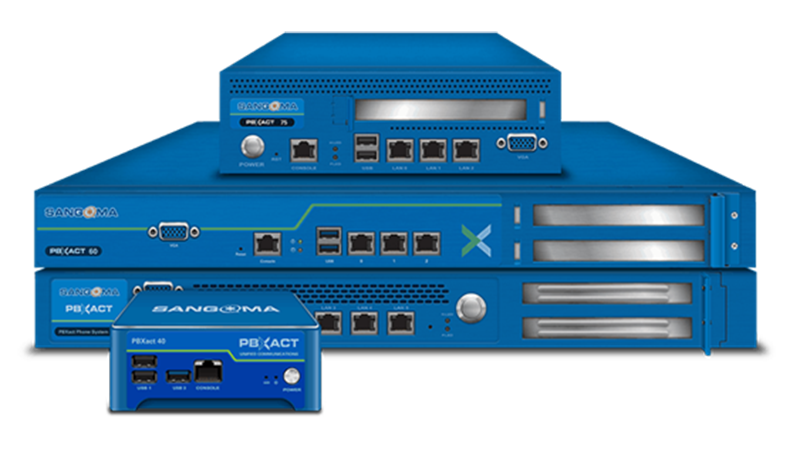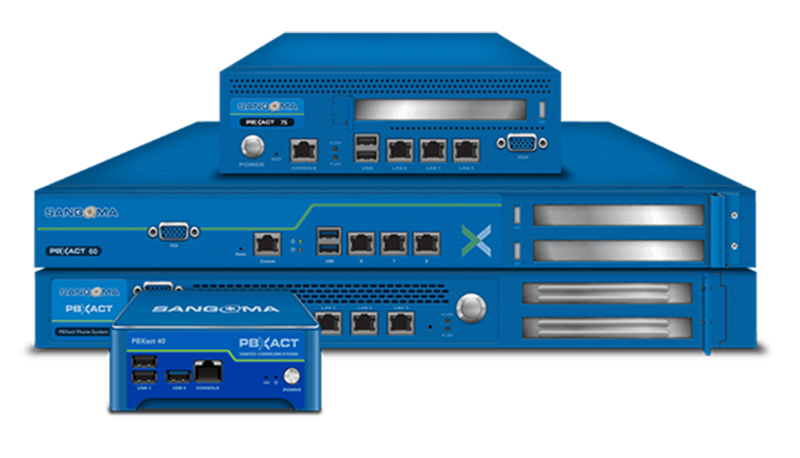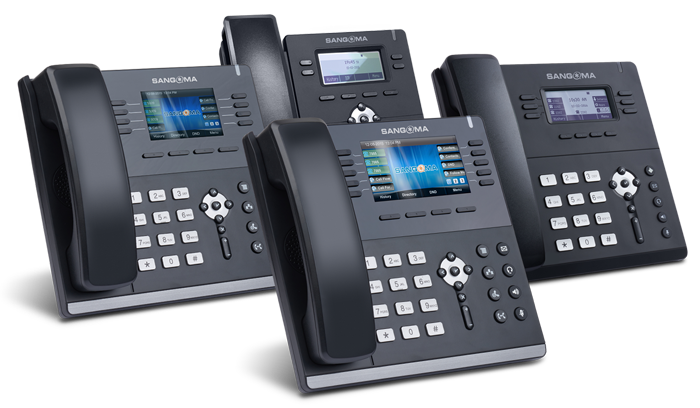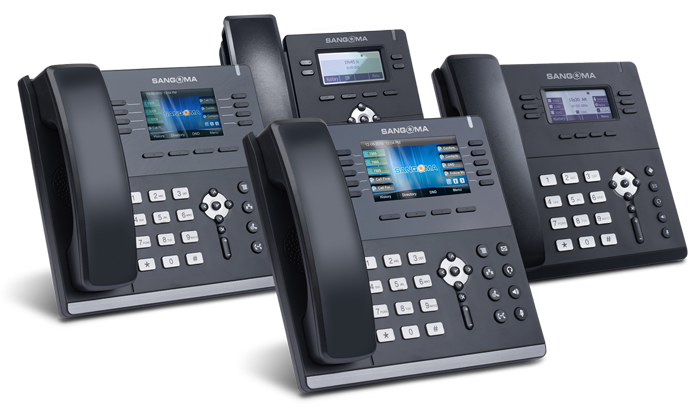 S-Series IP Phones
By combining the power of Sangoma IP phones with PBXact, you can take advantage of:
Zero Touch provisioning tools such as End Point Manager and Redirection Server.
Access productivity features with support for PhoneApps, including hot-desking, queue control, and voicemail notifications.
A high level of security with built-in VPN.
Connect to a self-service online store, allowing you to install enhancements as needed.
VoIP Gateways
Sangoma IP Media Gateways are industrial-grade, high-performance appliances – built on a powerful combination of the Asterisk open source communications engine and a state-of-the-art embedded platform. Sangoma's gateways provide easy configuration, rock-solid reliability and the best value for connecting traditional telephony to SIP.
Sangoma's Analog VoIP Gateways

Available in 4 to 8 ports of FXO and 4-50 ports of FXS for connecting legacy phone systems, telephones and fax machines to VoIP networks.
Sangoma's Digital VoIP Gateways

Available in 1 to 8 ports of T1/E1/PRI for connecting TDM phone systems to VoIP networks and IP enabled networks to the PSTN.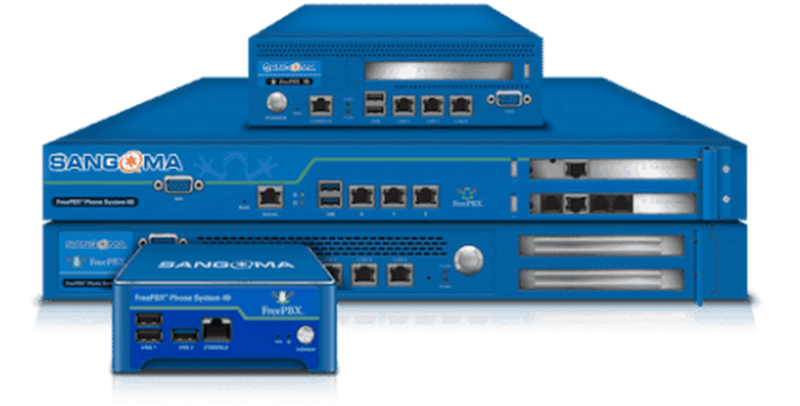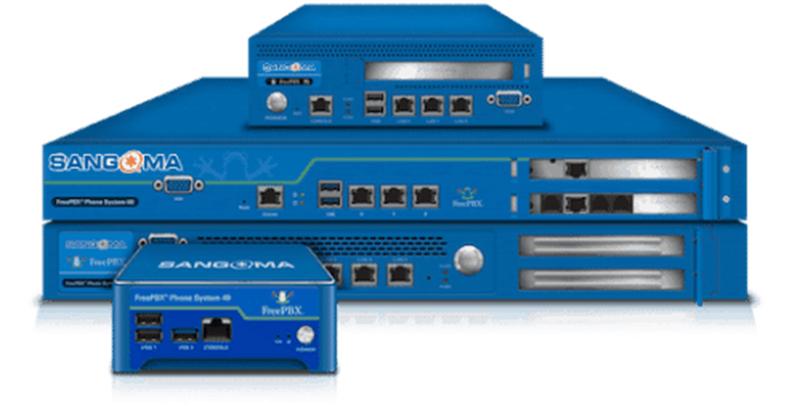 FreePBX Phone Systems
The only hardware solutions to be officially certified by the FreePBX project, the FreePBX appliances are the optimal high-performance PBX solutions. Each one comes pre-loaded with FreePBX Distro to make deployment, configuration, and use of your customer's PBX system even easier.
Session Border Controllers
Sangoma has SBCs to fit businesses of all sizes, allowing you to connect your remote workers and SIP trunk(s) securely to your phone system without compromising security, automatically detecting VoIP threats and taking action.
Additionally, Sangoma SBCs can automatically translate codecs and audio with built-in interoperability and transcoding capabilities.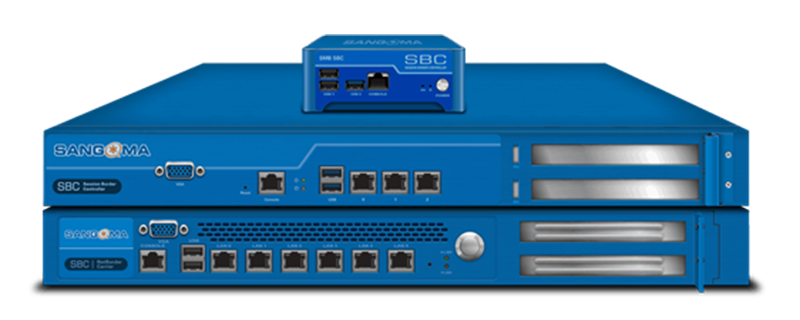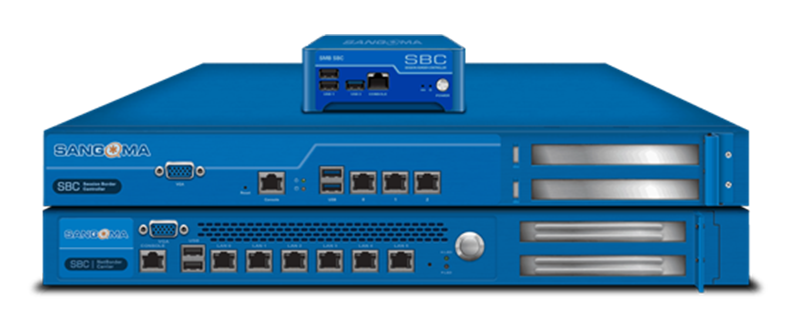 SIPStation SIP Trunking
Offer an end-to-end solution under one support umbrella by replacing traditional phone lines with SIPStation SIP Trunking – instantly reducing your customers' telephony costs and delivering a higher standard of service to their PBX.
Help save thousands with flexible, lower rates for local and long-distance.
Simplify communications into a single data connection.
Add or remove channels with ease.
Self-serve portal makes it easy to configure, add services, and manage your account.
Works with any SIP or SIP-enabled PBX.
FAXStation Fax-over-IP
Designed to address the T.38 fax limitations, FAXStation provides you with the most reliable and secure Fax-over-IP (FoIP) solution on the market. Switch to Sangoma's FAXStation service and enjoy:
A true analog fax experience without the high cost of an extra PSTN line.
Continue using existing fax machines if desired.
Manage faxes on the web using your email.
The plug-and-play appliance comes pre-provisioned and ready to go.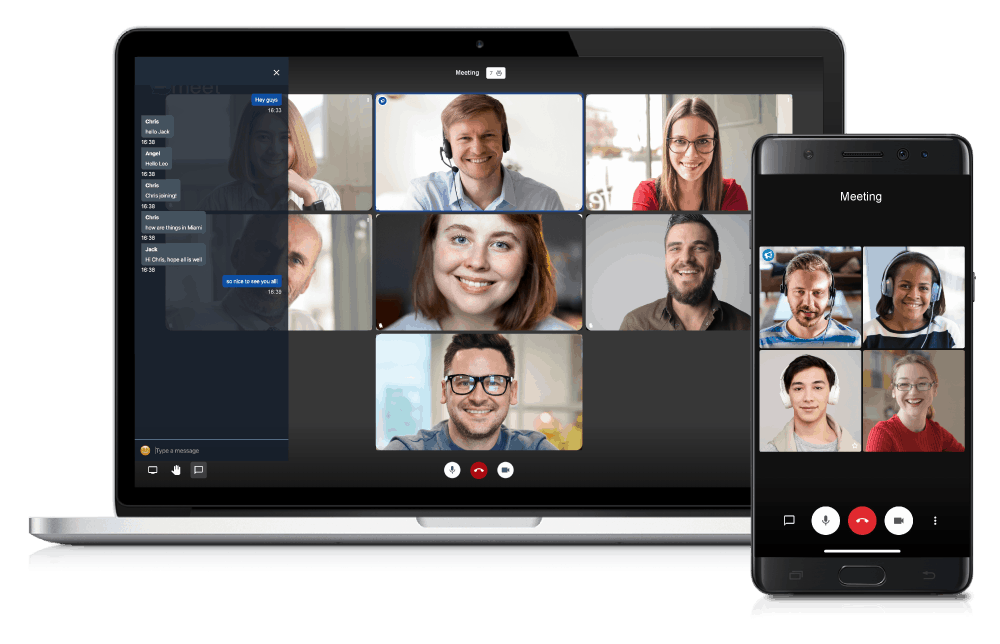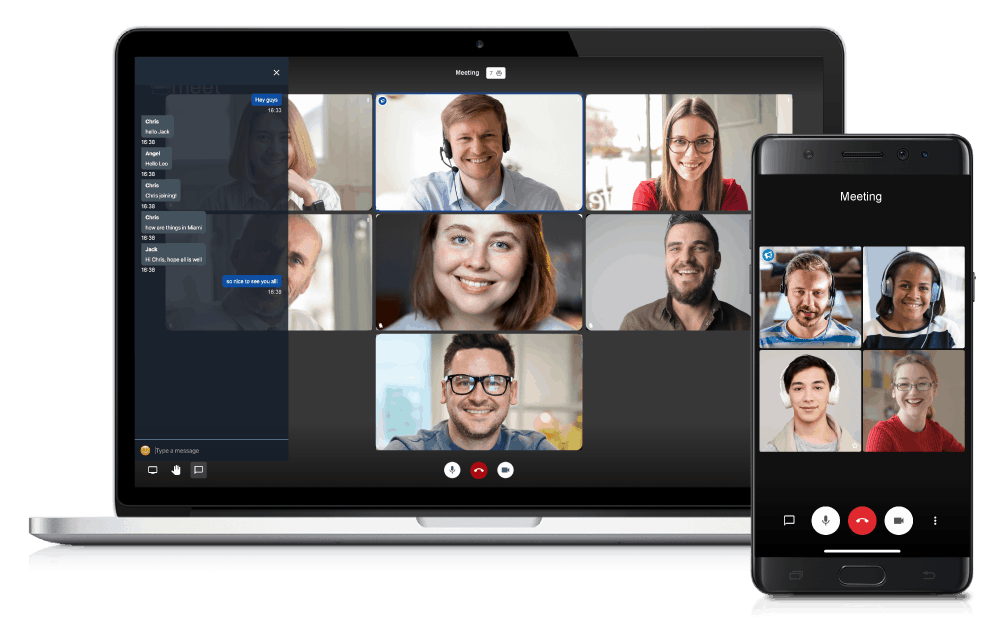 Sangoma Meet - Video Conferencing
Sangoma Meet lets anyone start a video conference of up to 50 video participants on any device. Users collaborate on projects while keeping in touch with their family and sharing some face-time with colleagues and friends.
Wireless Headsets
Users enjoy complete flexibility and productivity with Sangoma wireless headsets. Whether they want to stretch their legs, take care of a task away from their desk, or working from home and want to do some housekeeping chores, Sangoma's H-Series headsets ensure users are always connected.
The models feature superior sound quality with dedicated DECT technology, superior call handling with up to 325 feet of range as well as all-day battery life. Choose from a dedicated Desktop IP Phone option, or one with added support for the Switchvox Desktop softphone or Zulu softphone for FreePBX/PBXact.
H20 Headset
No IP Phone? No Problem. The H20 is designed to take advantage of the Switchvox Desktop softphone and Zulu Softphone for FreePBX/PBXact. Connect the H20 directly to the workstation via the supplied USB cable and enjoy great audio and video calls. The H20 is also compatible with Sangoma D-Series and S-Series IP phones so that users have the flexibility to use either their desk phone or softphone (or both).
H10 Headset
Need a headset to extend the range of the Sangoma IP Phone? The H10 connects directly to S-Series and D-Series phones for incredible wireless range. Connect an EHS adaptor to control calls directly from the headset without needing to get back to the desk.