Sangoma
In today's fast-paced world, Sangoma believes organizations can achieve greater levels of connectivity by having access to powerful, affordable communications solutions from a reliable partner and that building tomorrow's solutions will help the world to connect and collaborate in new ways. Sangoma, as a leading voice and Unified Communications (UC) solution provider, is doing just that with their award winning Cloud and On-Premise UC/PBX solutions and with their continuing product innovation.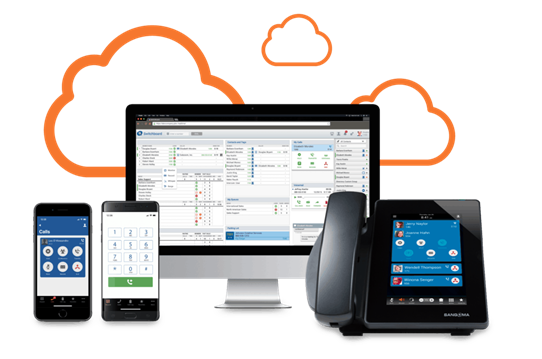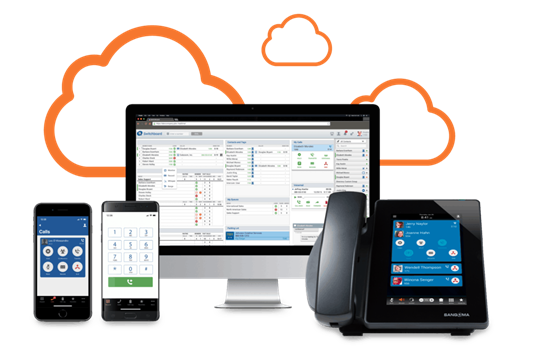 Switchvox Cloud
Switchvox Cloud is Sangoma's cloud-based UC solution for small and medium-sized businesses. It is an affordable, full-featured UC solution with prices starting as low as $12.99 per user. Switchvox Cloud allows customers to take advantage of advanced UC features, such as mobility, call queues, reporting, and more, all for one low price. No need for additional licenses or add-ons - everything is included! This makes Switchvox Cloud the best value for your customers.
Switchvox
Switchvox, built on Asterisk, is Sangoma's awardwinning Unified Communications solution. Switchvox is an easy-to-use system that supports both VoIP and traditional calling, and it can be deployed how your customers need–in the cloud, on a dedicated appliance or in a virtual environment. It is easily provisioned with a GUI that allows you to configure multiple users and set up your customers' phone systems quickly. Switchvox uses an all-features-included pricing model that eliminates the need for a complex licensing structure and enables partners to quote an entire phone system with as few as four part numbers.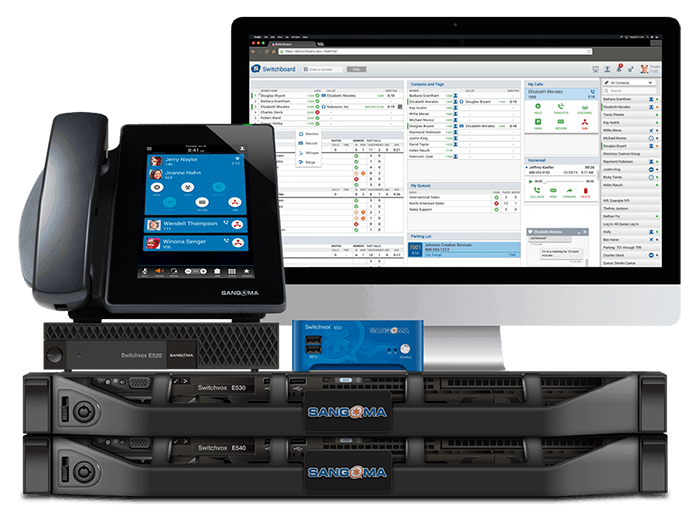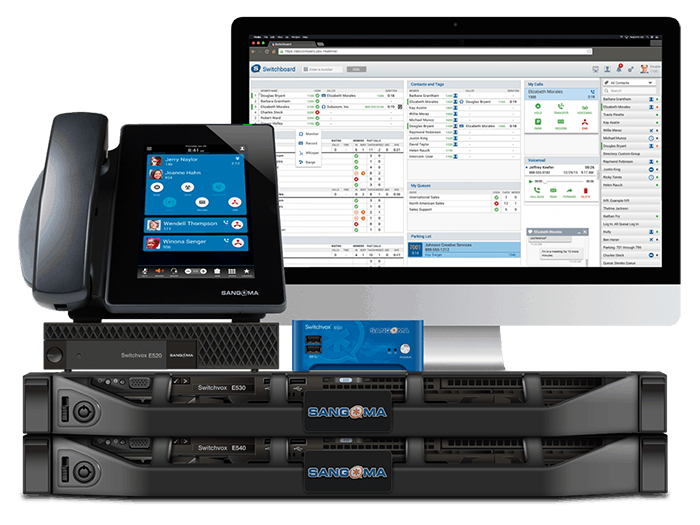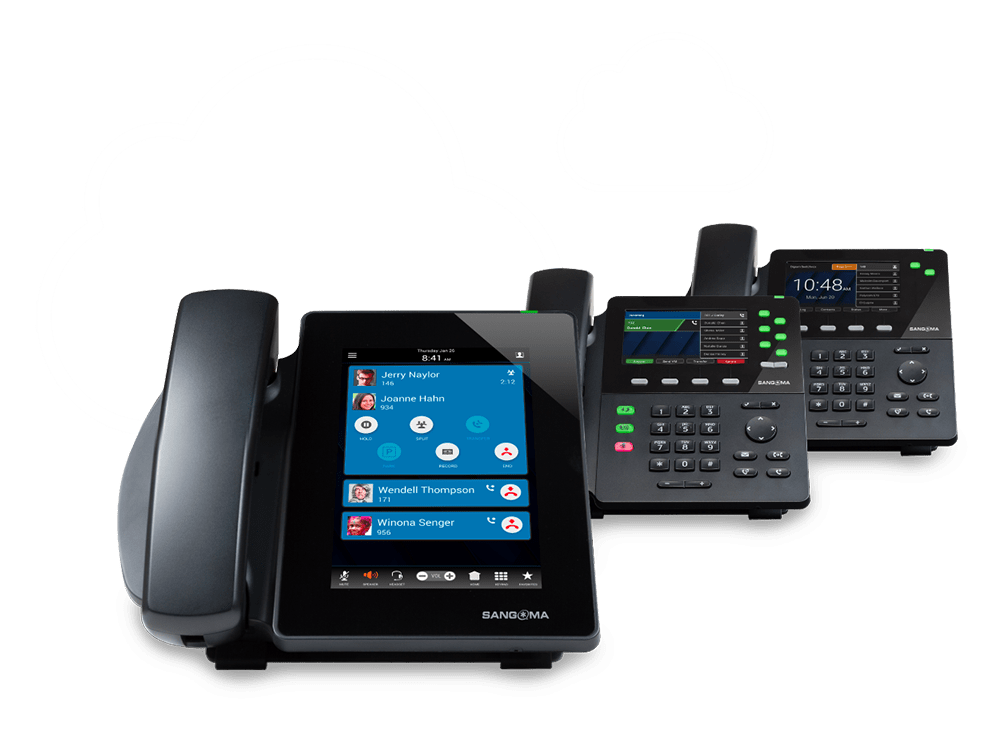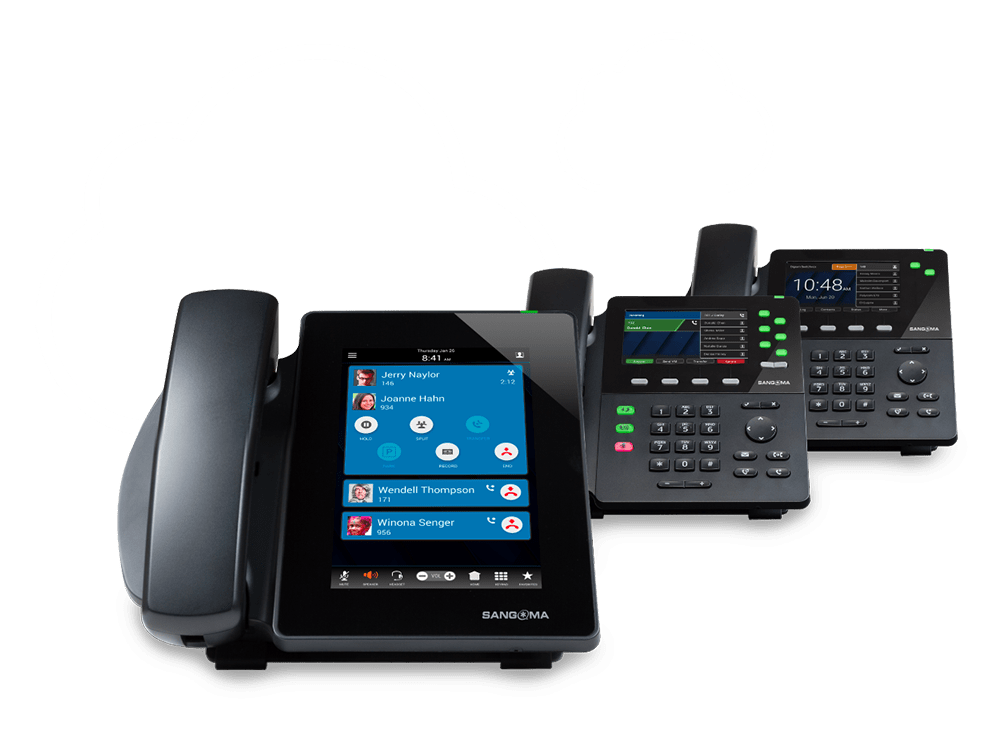 D-Series IP Phones
Sangoma D-Series phones are designed exclusively for use with Asterisk and Switchvox. All models include HD Voice and unprecedented plug-and-play deployment at a price that fits any budget. Enhance your users' productivity with built-in advanced applications, including voicemail, call log, contacts, phone status, user presence, parking and queue metrics. Sangoma D-Series phones provide simple, intuitive access to a wealth of information, saving valuable time. With the phones' open, JavaScript API, you can also build customized applications to tailor the user experience to your specific needs. Sangoma's highly-integrated D-Series phones are the only phones that allow you to take full advantage of the flexibility and customization of Asterisk and Switchvox.
PBXact Business Phone Systems
The PBXact Business phone system is a fully-featured IP-PBX designed with unified communication features for organizations needing mobility, productivity and collaboration capabilities. The PBXact business phone system is available in both hardware and software versions.
It comes with an extensive set of built-in Unified Communications features such as:
"Phone Apps"- Advanced productivity features controlled by the IP-Phone's display
UCP web-based Dashboard allowing end-users to control phone settings, voicemail, conference rooms and more…
Zulu UC Desktop and Soft-phone Integration for mobility and productivity.
CRM Integration for screenpop and click to call
End-Point-Manager to auto-provisioning Sangoma IP-Phones and manage each user's programmable buttons and features
Built-in VPN to guarantee security for your cutomer's remote workers connecting to the corporate PBX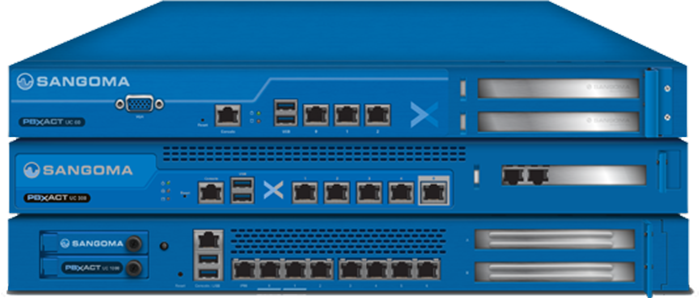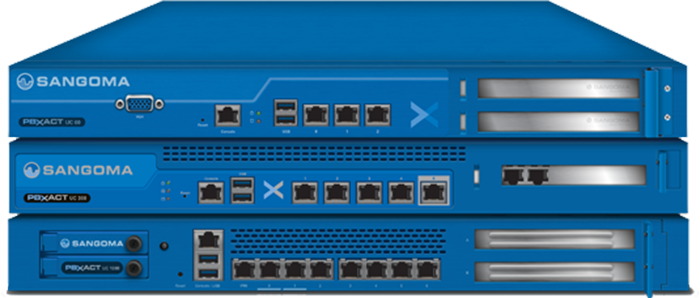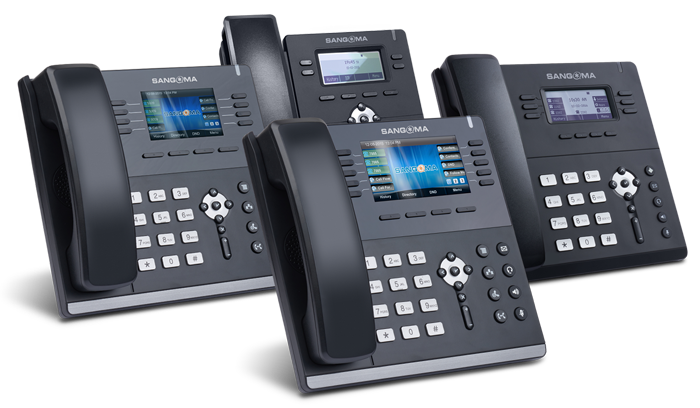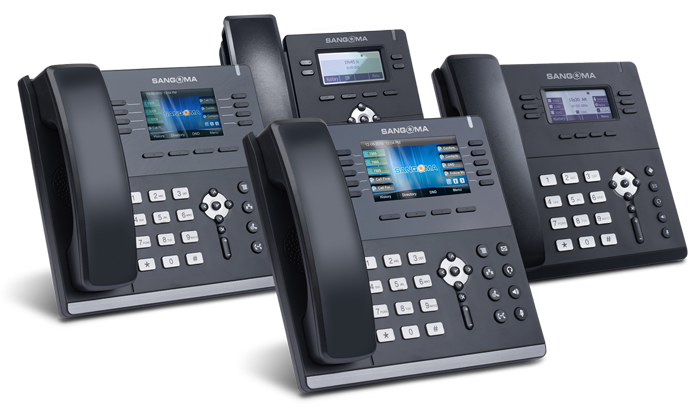 S-Series IP Phones
Designed to work with FreePBX and PBXact, Sangoma S-Series IP phones are so smart, your customers can quickly and easily use them right out of the box. Each phone in the series features industry standard Power over Ethernet (PoE), so no power cable or outlets required. They have full duplex speakerphones, dual Ethernet Ports, multi-way conference calling, high definition voice quality and they're Virtual Private Network (VPN) capable.
VoIP Gateways
Sangoma's line of VoIP Gateways allows your customers to keep their existing legacy infrastructure (Analog/T1/E1) and connect to VoIP Services, saving their business time and money. They can simply connect any of Sangoma's VoIP Gateways at the edge of their network and tap into the benefits of VoIP. The VoIP gateways automatically take care of the call processing and transcoding required between the SIP-TDM networks.Whether your customers are an SMB (Smallto- Medium Business) looking to expand their voice services with SIP Trunks or a large enterprise/Carrier offering voice services, Sangoma's line of Vega VoIP Gateways are tailored to your customer's needs.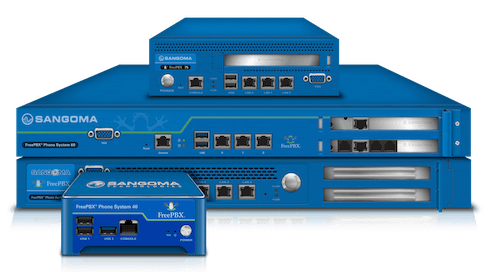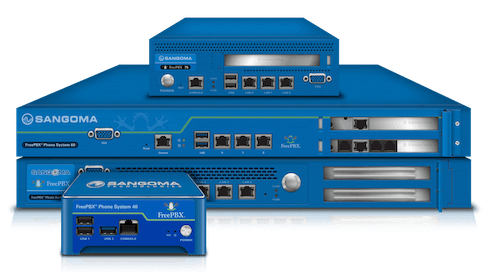 FreePBX Phone Systems
The only hardware solutions to be officially certified by the FreePBX project, the FreePBX appliances are the optimal high-performance PBX solutions. Each one comes pre-loaded with FreePBX Distro to make deployment, configuration, and use of your customer's PBX system even easier.
Session Border Controllers
Businesses connecting their infrastructure to a SIP Trunk, or VoIP Connection, require a Session Border Controllers (SBC) for security, interoperability and transcoding. Often times, businesses will forget the importance of an SBC when switching from their legacy phone system to VoIP and simply use their existing firewall for protection, and make a huge mistake! A typical firewall can only protect your customer's data network and as soon as they open it up to the internet, which is how they connect to VoIP services, the entire network is exposed. The other pitfall of using their existing firewall, instead of an SBC, is that phone calls may not connect or there will be audio issues. A Sangoma SBC will automatically do the call translations for your customers, with the built-in interoperability features and also translate the audio with built-in transcoding capabilities.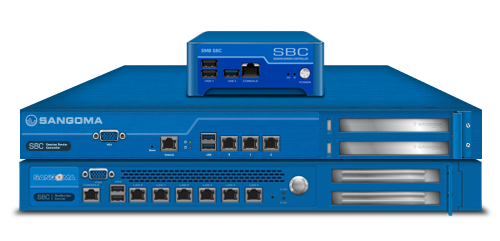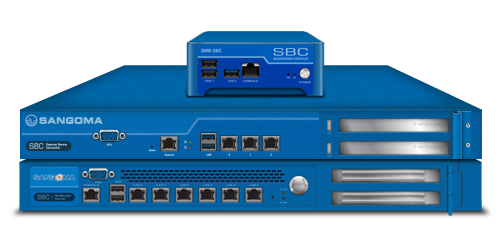 SIPStation SIP Trunking
Sangoma's award-winning SIPStation SIP Trunking services provide SMBs and large enterprises with feature-rich, industry leading telephony services using a standard internet connection. Named #1 in Customer Satisfaction by Eastern Management Group, SIPStation included a guaranteed cost savings when switching from providers of traditional telephony services, SMS, and integrated IP fax services.
Contact Jeff Camarda to Learn More about Sangoma